Transforming lives: building a volunteer legacy
Transforming lives: building a volunteer legacy
"I want them to know they are changing lives at Camp Kindle. Kids can develop and grow with all that encouragement, support and commitment. There are small wins and big wins that will change the course of a child's life forever. I believe this for Levi!"— Levi's mom Cheryl
Jack Perraton was known as the ultimate volunteer, and among his many volunteer roles was his nine-year term as chair of the Kids Cancer Care Board of Directors. During Jack's term, the foundation experienced tremendous growth, and the crowning achievement of those years was the purchase and planned renovation of Camp Kindle.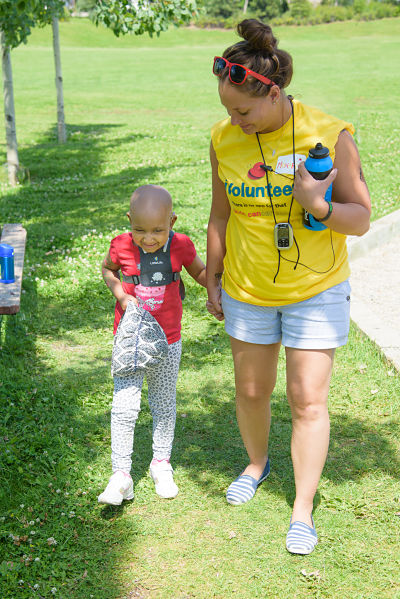 When Jack passed away in February 2012, after his second battle with cancer, his good friend JR Shaw of Shaw Communications decided to do something special in his memory — something that would honour Jack and the life he lived. Jack had passed away before the renovation of Camp Kindle could be completed, and JR felt that completing it in his name would be a lasting tribute to Jack's spirit and generosity.
"Jack was the ultimate giver, the ultimate volunteer," JR said during a 2013 reception to honour his friend and celebrate the opening of the Jack Perraton Volunteer Lodge at Camp Kindle. "He set an example for all of us and his footprints, I'm sure, are everywhere here. He would be so proud to have his name on this volunteer lodge."
Along with Jack's footprints will be those of countless volunteers to come — volunteers who will also leave a lasting impression in the lives of children with cancer. With a charitable contribution to our 2017 volunteer program, Shaw Communications is helping keep the volunteer legacy alive by providing the necessary resources to attract and maintain the best volunteers at Kids Cancer Care.
"Volunteers are the heart and soul of Kids Cancer Care," says Christine McIver, who started the foundation over 20 years ago as a volunteer. "We are so grateful for this gift from Shaw Communications. It is the perfect way to keep Jack's volunteer spirit and legacy alive, while helping us to recruit, train and retain volunteers for tomorrow."
Eleven-year-old Levi is one of many kids to experience the lasting influence of volunteers in his life. Diagnosed with high-risk leukemia at 18 months, Levi endured repeated rounds of chemotherapy that lasted until he was five years old. Although Levi is cancer-free today, survival came at a cost. He suffers from high levels of anxiety and neurocognitive issues that are affecting his ability to learn and function at optimal levels. Levi's psychologist believes he suffers from post-traumatic stress disorder due to the invasive medical procedures he received as an infant.
For years, staying overnight at Camp Kindle was out of the question for Levi. The thought of being away from home for a whole week was just too stressful. Each time he tried, his anxiety got the best of him and he came home from camp mid-week. With energetic coaxing from his parents, Levi decided to give Camp Kindle another try.
After a couple of rough patches on Monday and Tuesday, and repeated telephone conversations with his mother, Levi reluctantly agreed to stay on until Wednesday. Meanwhile, his mother Cheryl and Levi's counsellors met by telephone each night to explore ways to help him manage his anxiety. When Cheryl spoke with Levi on Wednesday evening, she couldn't believe the transformation in her son.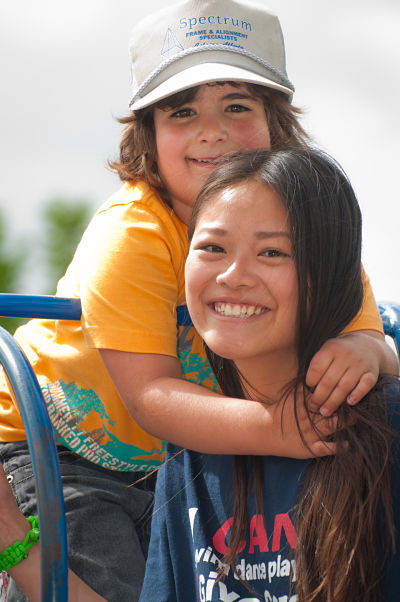 "I could hear joy and confidence in his voice. He was proud of himself!" she says.
Levi's victory at Camp Kindle is now spilling over into other parts of his life. "Getting that psychological demon off his back was huge," Cheryl says. "It's a total game-changer. He gained so much that week at Camp Kindle that he's riding off now to face other fears."
Finding the perfect complement of volunteers at Camp Kindle is essential to a child's camp experience, and the nature of the role requires rigorous screening and intense training.
"The time and resources dedicated to recruiting and training these volunteers is significant, so retention is also a huge focus for us," says Tracey Stahn, who oversees the volunteer program at Kids Cancer Care. "Shaw's support will go a long way to helping us achieve these complementary goals."
Thanks to companies like Shaw Communications, kids with cancer will continue to feel the lasting impact of volunteers at camp and at every stage in the cancer journey. Volunteers are active on all fronts of the foundation, from volunteer cooks who prepare home-cooked meals for newly diagnosed families, to one-to-one camper aides who provide extra support at camp, and specialized tutors who support children struggling at school. Shaw's gift to the volunteer program will leave a legacy of giving in the hearts of children with cancer.
A proudly Canadian company, Shaw is committed to improving the lives of Canadian kids and youth through the Shaw Kids Investment Program (SKIP). To learn more about SKIP, visit Shaw.ca/SKIP.
---
Volunteers in action at Kids Cancer Care
On the frontlines at camp or behind the scenes at our fundraising events, 300+ volunteers are active at all levels of the foundation. They are the heart and soul of our work, giving over 16,000 hours each year.