A Beautiful Friendship: Trico Homes
"I ask myself sometimes in difficult moments: 'What would Edyn do? How would Edyn handle this?' I believe this is what Edyn would do. She would reach out and help others. To remember Edyn is to keep her spirit alive and this head shave in her name for other kids with cancer is the perfect way to do it."
Those were the words of thirteen-year-old Cole Pederson, before the kickoff event for the Bishop Pinkham Junior High Shave Your Lid for a Kid® event in memory of one of his best friends, Edyn. In the coming weeks, our staff would find themselves both blown away by the fundraising support for Kids Cancer Care and overwhelmed by the sheer number of students whose heads we had to shave. We were given a window of two hours to shave or cut the hair of 100 students, teachers and parents. And we had to keep a gymnasium full of junior high students engaged in the event. The largest school event previous to this had less than half the participants. How were we going to make this happen?
Shave Your Lid for a Kid® show children facing cancer that they are not alone, all while raising vital funds for initiatives like research to change the course of the disease. "Shavees" as we call them come together in a community of support.
Our presenting sponsor of Shave Your Lid for a Kid®, Trico Homes, is very familiar with building communities. Founder Wayne Chiu has always known that his company is more than building the physical structure of a house.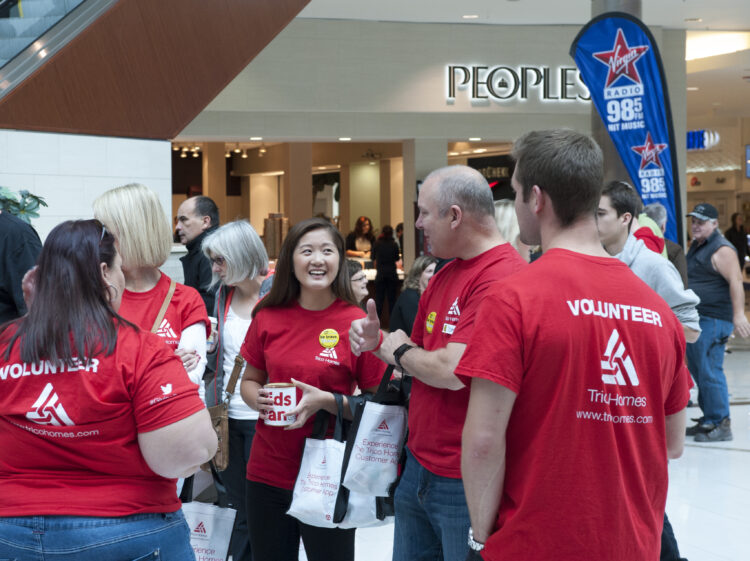 Trico believes in building community. "When you build with us you quickly become part of the Trico family. We keep in touch with our homeowners and try to provide great incentives and opportunities for them to move up within Trico – from condos to semi-estate homes." says Wanda Palmer, Vice President of Marketing for Trico Homes. "We also want to create housing options to meet the needs of all Calgarians. Trico recently broke ground on a new project that will provide new affordable and accessible living options in an inner city community. Social entrepreneurship is one of Wayne's passions and this thinking has contributed to shaping the culture of Trico Homes."
It was this passion that brought Wayne into his first meeting with Kids Cancer Care founder and CEO Christine McIver in 1999. After finding out that the children of two of his business contacts had been diagnosed with cancer, he knew he had to do something.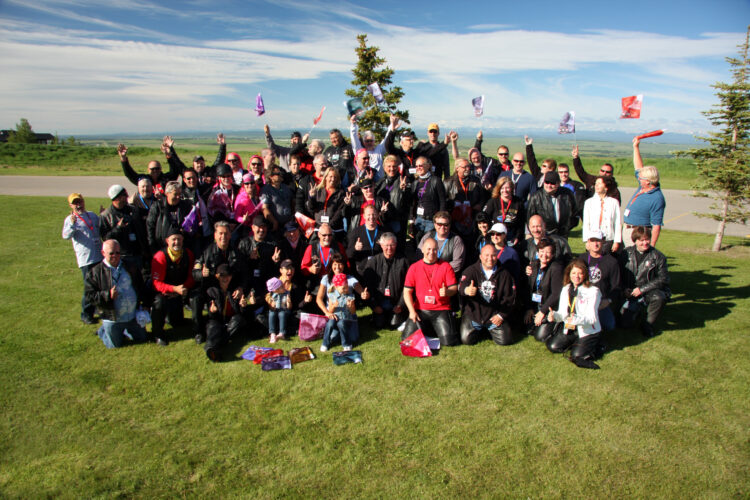 "Wayne wanted no fanfare. He just wanted to help," says Christine. "One of his employees suggested doing a motorcycle ride to raise money. In the inaugural year of Ride for a Lifetime, Wayne sponsored every rider for $1000." A Kids Cancer Care signature event for 10 years and now a third party fundraising initiative, the Ride for a Lifetime has since raised over $2.6 million for pediatric cancer research programs.
For almost two decades, Trico has been heavily involved behind the scenes in Kids Cancer Care's growth. Trico Homes has been the presenting sponsor of the Shave Your Lid for a Kid® since its inception in 1999. After sponsoring Ride for a Lifetime for a number of years, when Kids Cancer Care began supporting childhood cancer research, Wayne committed to giving $100,000 a year to research. Trico then became the presenting sponsor of the Don, Joanne and the Coach Golf a Kid to Camp tournament. When Kids Cancer Care began exploring the possibility of running Camp Kindle as a social enterprise, the Trico Foundation gave Camp Kindle its first grant.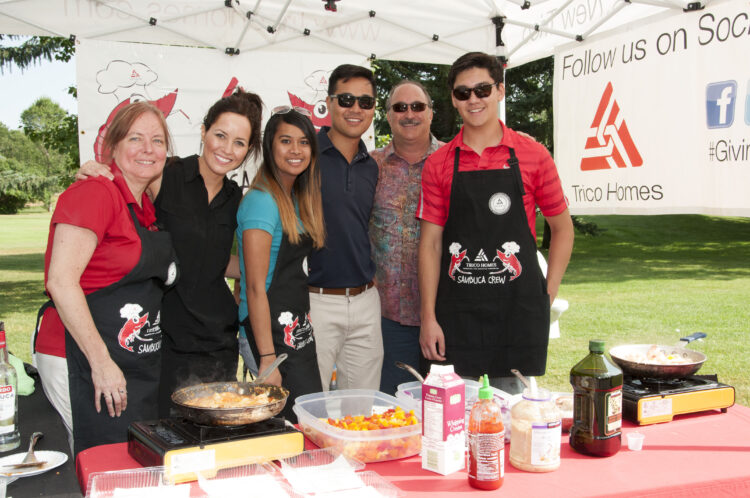 Christine says, "They gave us the courage to add the pillar of research to our organization, they gave us the courage to embark on a new signature event, Ride for a Lifetime, and the courage to start a social enterprise with Camp Kindle rentals. The impact of Trico Homes on Kids Cancer Care far surpasses their financial commitments. You don't get a community without family and Trico is definitely a part of our family."
You can always count on family to be there for you at every major milestone and event.
"Our staff really appreciate going out to volunteer at head shaves and the golf tournament," says Wanda Palmer. "I send an email and almost immediately, the volunteer spots are filled."
Wanda herself is one of these volunteers. Wanda volunteered to represent Trico Homes at a High Hopes Challenge, raising over $10,500 for Kids Cancer Care, and being paired with a bereaved sibling to experience a week of camp in one day.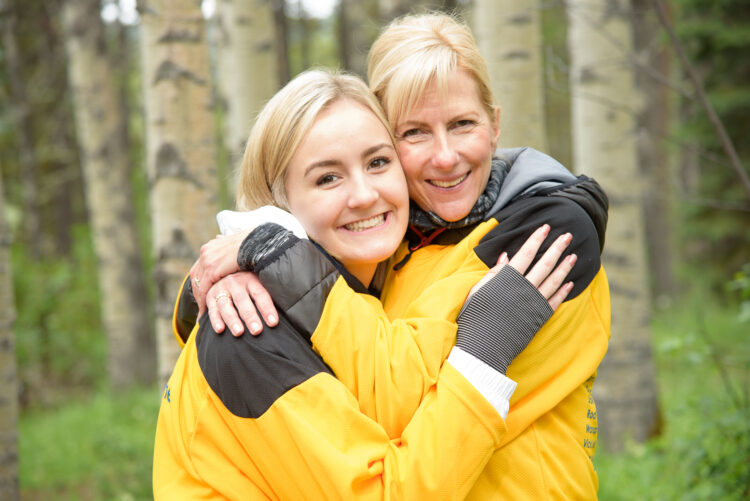 Everyone at Trico Homes is given the chance to volunteer and participate. They mandate sending different staff, from all departments and seniority levels, to the Don, Joanne and the Coach Golf a Kid to Camp tournament each year. Everyone is given the chance to experience the Kids Cancer Care community.
So in April 2015, in the Bishop Pinkham gymnasium, when faced with the largest event in the 17-years of Shave Your Lid for a Kid®, there were some familiar faces in the crowd. As they always were, no matter the size of the event, Trico employees were there to help. We put them to work handing out goodies to all the shavees and we even encouraged them to partake in the flash mob!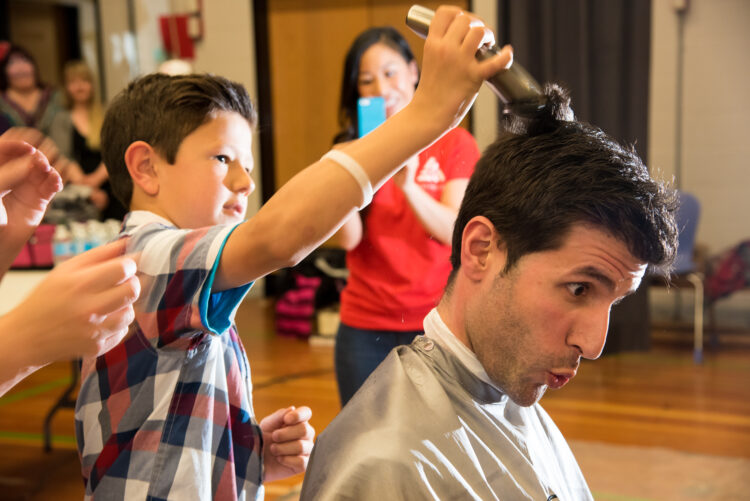 Trico Homes knows how important volunteering and seeing the return on their social investment has on their employees. Kids Cancer Care is so grateful to Wayne, Wanda and the entire team at Trico Homes for their continued dedication to families affected by childhood cancer!