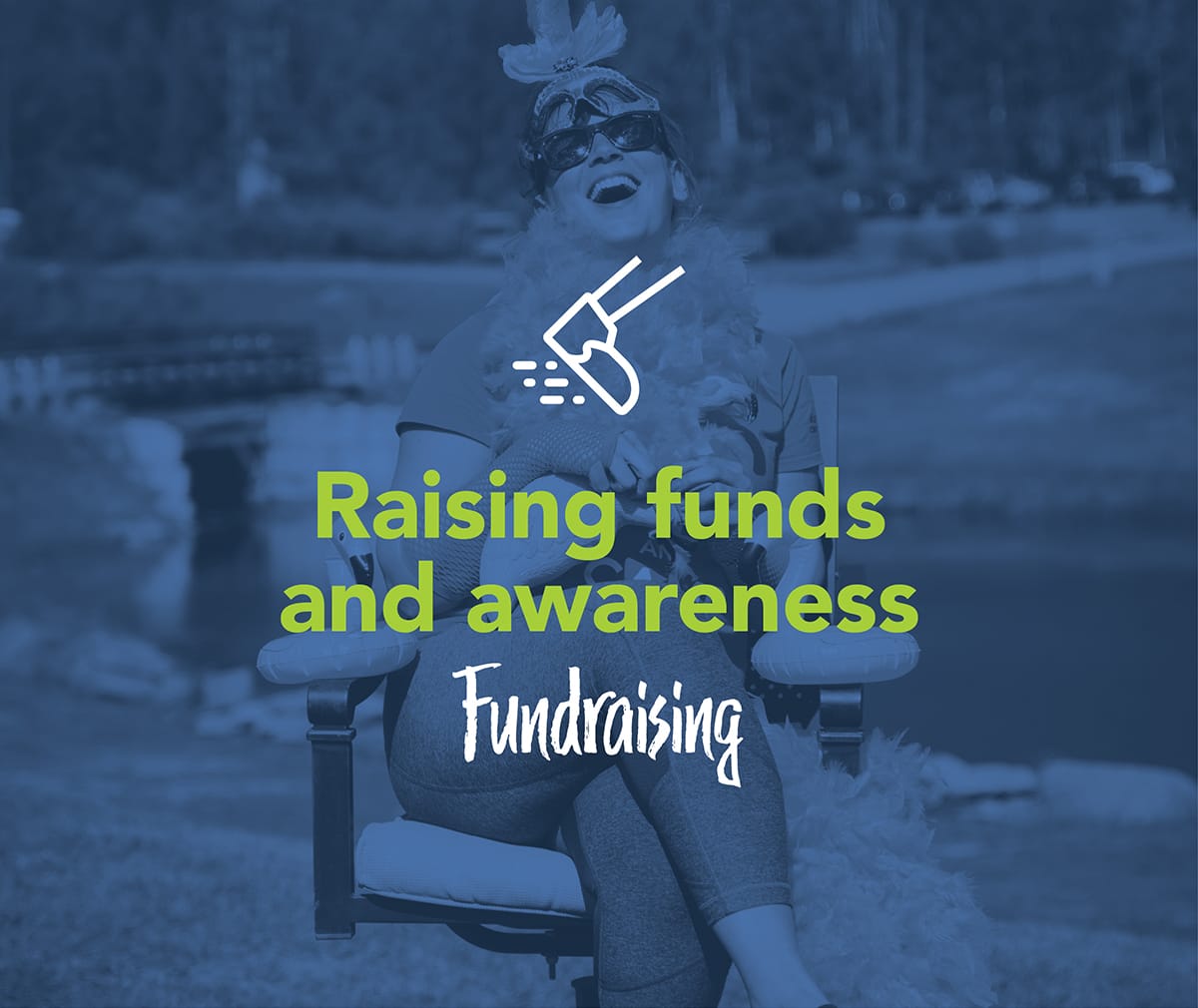 Imagine a warm autumn day in the Foothills and teams of people in outlandish costumes racing against time. Pink tutus and feathery boas — that's the Bye Felicia team. Or the Bedrock Rockers, a.k.a. the Flintstones, driving in their stone-age car. This is Kindle Pursuit and anything goes.
The first annual Kindle Pursuit brought together hundreds of competitors, sponsors, donors and spectators in the fight against childhood cancer on September 8. Presented by Trico Homes and CJAY 92, the Amazing Race-style event challenged 22 teams of four to raise a minimum of $1,000 before taking on a series of obstacles at Camp Kindle.
After a continental breakfast and a series of warm-up exercises, the teams and their Cheering Squads listened intently as Jack Godefroy, the 2018 Kids Cancer Care spokeskid, shared his cancer story.
"By the end of this journey, I will have gone through 1,224 days of treatment," said Jack. "That is all of grade six, all of grade seven, all of grade eight and half of grade nine."
You could almost feel a collective shift in perspective. Jack's message had hit home.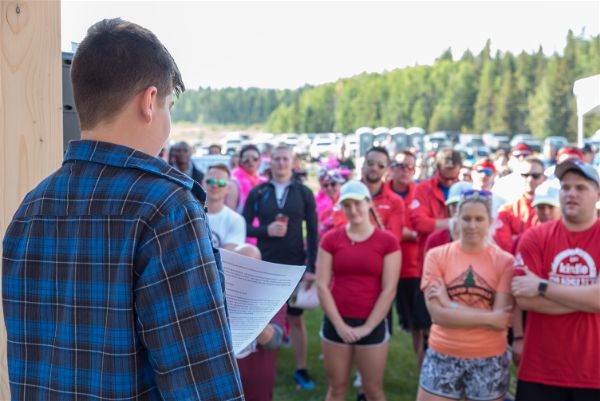 "When this new event came out, I was eager to get a team together," says Ryan Murray, operations manager at Trico Homes and team captain of a team called In PURSUIT for Happiness. "It was a great team building experience, but my favourite part of the day was hearing the story of that young man who shared his journey. You don't get to hear that every day."
Ryan's team raised $12,000, making them the highest fundraising team. Their reward was a ride on the zip line at Camp Kindle. The second highest fundraising team was The Muppets, a family battling childhood cancer.
Trico Homes is a long-time supporter of Kids Cancer Care and Ryan has been involved with the foundation for about six years, participating in other fundraisers such as Shave Your Lid for a Kid® and The Don, Joanne and the Coach Golf a Kid to Camp tournament. For years, Trico Homes was also the title sponsor of our Ride for a Lifetime.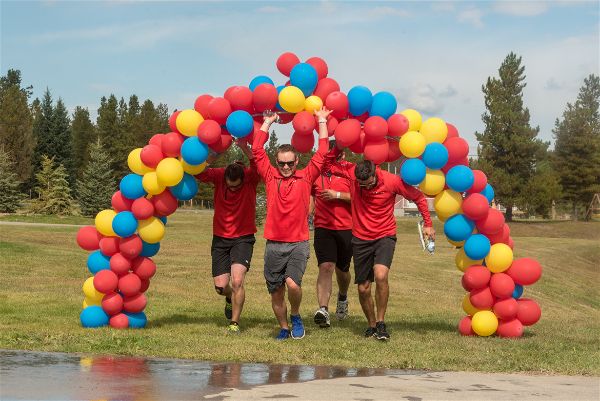 "This isn't your typical gala event," says Ryan. "It fits Kids Cancer Care well and creates exceptional engagement. Our team was out to win, but it was definitely enjoyable and we shared lots of laughs."
A fierce team of childhood cancer survivors, called the BRATS, was also among the teams competing. "It's not a tough mudder and it's not a Spartan race either," said Brad Rains. "It's a challenge course that is uniquely Camp Kindle and it's something everyone should try."
The BRATS is an acronym based on the first letter of each of their first names — Brad, Adam, Taylor and Samantha. All former spokeskids, the BRATS grew up going to Kids Cancer Care camps together. Now young adults with careers on the go, the BRATS give back as volunteers, spokespersons and fundraising partners. Adam Verheyde took the prize for highest fundraising individual, bringing in $3,600.
Over a two-hour period, the teams of four raced through a series of obstacles stationed throughout Camp Kindle. Think giant slingshots, archery, fire making, wall climbing, water bucket challenges and rubber ducky rescue missions.
Adorned in pink boas and pink tutus, the Bye Felicias took the prize for fastest team. The Bedrock Rockers took first prize for most spirited team. Lugging that stone-age vehicle around for the entire race demanded real commitment and a healthy dose of team spirit.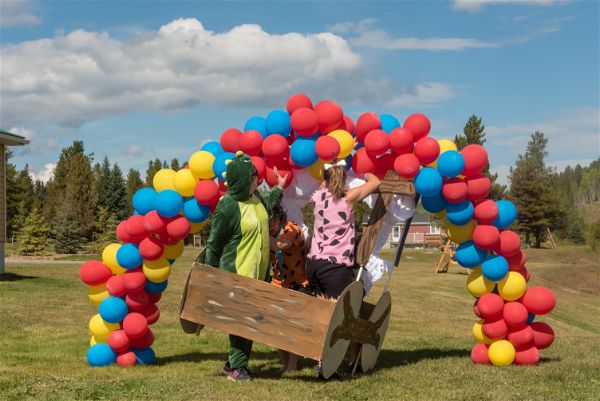 "The activities were fun and outrageous," laughs Ryan. "Running up that big hill to the low ropes was definitely not effortless."
Up at the low ropes, the teams completed challenges such as the Queen's Finger, Mission Impossible and the Shrinking Island. Camp Kindle staff designed all the challenges and have developed a brand new set of challenges for Kindle Pursuit 2019, which takes place on September 7.
JD of CJAY 92 emceed the event, wrapping things up with plenty of time to chillax with a cold one in the beer garden and a delicious BBQ lunch, compliments of Keith Shepherd of ReDo It Renovations.
In addition to raising funds, another goal of Kindle Pursuit is to introduce Camp Kindle and its state-of-the-art facilities to new audiences. During the shoulder season, Kids Cancer Care rents the camp to corporate and community groups. Kindle Pursuit gives new groups a chance to test drive the facilities.
Thanks to your support in its first year, Kindle Pursuit raised over $90,000. The fundraising goal for Kindle Pursuit 2019 is over $100,000.
"To raise $90,000, in its inception, is a phenomenal result," says Ryan. "I look forward to Kindle Pursuit growing into something as impactful as the larger fundraisers."
---
Thank you! Your support makes life-changing programs possible.
Click here to learn more or register a team for Kindle Pursuit 2019.