You brought Mike's hockey dream to life
When Mike told his mother that he wanted a signed jersey from Winnipeg Jets winger Patrik Laine, Heather couldn't imagine how she would ever make it happen. She had no plan and she made no promises, but she was determined to make it happen. And, thanks to you, it did happen, in the most unexpected way.
Mike Arthur is battling leukemia—for the second time. Diagnosed with acute myeloid leukemia at age 10, Mike had been cancer free for 16 months when he suddenly relapsed and had to begin treatment again. This time it was acute lymphoblastic leukemia.
A natural leader and gifted athlete, Mike loves hockey, but the steroids and chemo are eating away his bone and muscle mass. With dangerously brittle bones, sports of any kind are off limits to Mike.
"It is hard to see a kid like Mike, who's been athletic all his life, become so sedentary," his mother Heather says.
But Mike knows how to turn a bad situation into something good. He's channelling his passion for playing hockey into collecting hockey paraphernalia. It helps him forget about cancer if only for a brief time.
"He gets excited about the hockey stuff and, for a while, he forgets about the bad stuff," says Heather.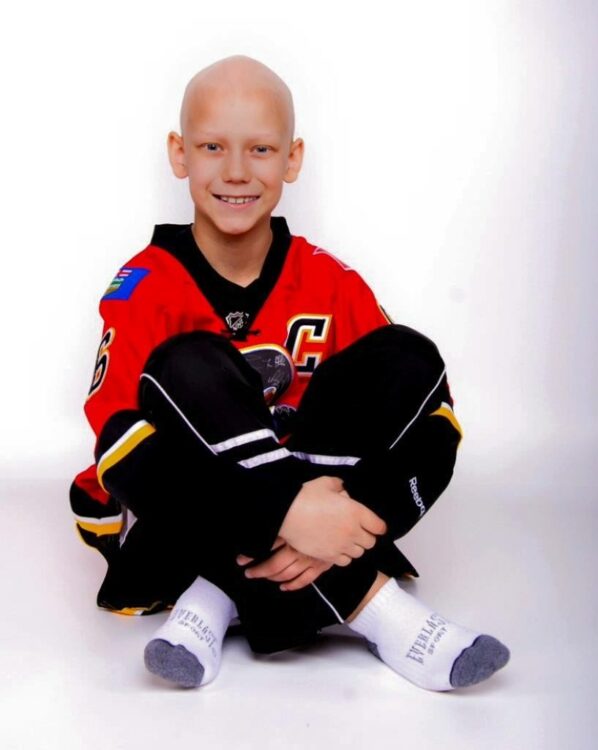 Mike has amassed an impressive collection of hockey cards, jerseys and sticks since his first diagnosis, so when he happened to mention that he really liked Winnipeg Jets right-winger Patrik Laine and really wanted a jersey for his collection, his mother quietly resolved to make it happen.
It was early November and Heather wasn't even sure she could get the jersey at all, never mind getting it in time for Christmas. Still, that was a secret goal.
"I reached out to Mary," says Heather, "and boy can she ever make things happen."
Mary Phillipo is Kids Cancer Care's family liaison. As soon as she hung up the telephone receiver, she immediately picked it up again and called Jim Skalk, a volunteer with Kids Cancer Care and Make a Child's Dream Come True through the Calgary North Hill Lion's Club.
Jim was as perplexed — and as quietly determined — as Mary and Heather were about the challenge ahead.
"I didn't know how in the world or who in the world would be able to help me with this, so I started with the people I know," says Jim, who lost his own son Grant to leukemia six years earlier.
Jim put out his feelers and, after a series of phone calls, he was connected with the Winnipeg Jets. When he learned that the Jets would not be signing again until January, his heart sank. But he persevered.
"I emailed the Jets, explaining I wanted to purchase a jersey," says Jim. "I shared Mike's story and asked if they could make an exception and send a signed jersey. Two days later, I received an email and not long after that a FedEx package showed up."
And that's how the beautifully wrapped gift box with a Patrik Laine jersey landed under the Arthur's Christmas tree that year.
"On Christmas morning, Mike opened the box and promptly closed it," says Heather. "He looked at us with these beautiful eyes and radiant smile: 'How did you do this?'"
Now, Heather had been trying for months to persuade her son to go Camp Kindle this summer, but like many teens fighting cancer, he was reluctant to attend a camp associated with cancer.
Heather seized the moment: "It was Mary at Kids Cancer Care. You should really think about going to camp because look what they can do."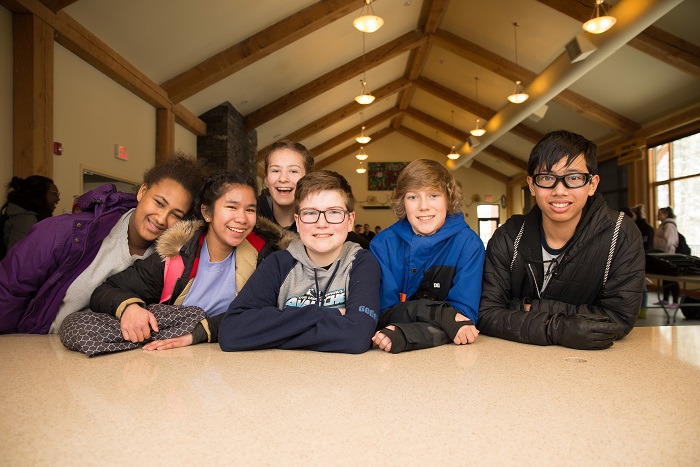 Since then, Mike has been out to our spring Teen Camp and we really hope to see him at summer camp. But for now, we're just happy that someone as big-hearted as Jim is part of the community of people who care about kids like Mike.
Thank you, Jim — and the 500+ volunteers — who give their time so generously each year to help the kids and families we serve.