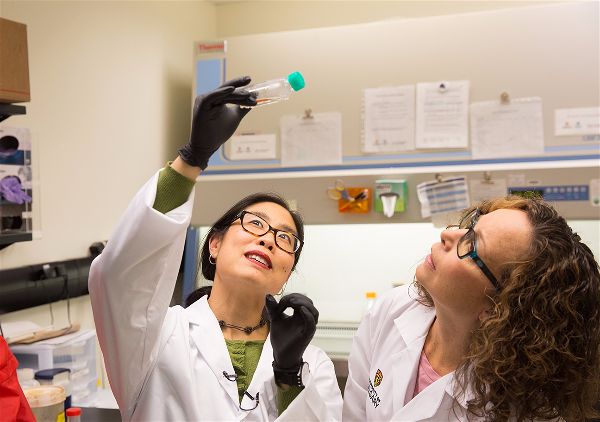 Calgary researchers collaborate in national research effort for kids with incurable cancers   
For the first time in Canadian history, more than 30 pediatric cancer research and funding groups have joined forces through the Terry Fox PROFYLE initiative, a pan-Canadian project that will give young people with high-risk cancers a fighting chance.
Short for PRecision Oncology For Young People and spearheaded by the Terry Fox Research Institute (TFRI) in Vancouver, PROFYLE is providing $16.4 million to date to establish molecular profiles of patients' tumours, which have resisted conventional therapies, in order to identify potential new avenues for treatment.
Thanks to your support, Kids Cancer Care is a partner in this national research effort that is pooling resources and bringing together research and clinical expertise to give kids with no more treatment options hope.
PROFYLE was developed with kids like Joel Zukowski in mind. Joel was 10 years old when he was diagnosed with medulloblastoma, a type of brain cancer. He relapsed at the age of 15 and exhausted all treatment options. Sadly, Joel passed away in October 2015 at the age of 16, after a long courageous battle with the disease.
One of the hardest days in Ed Zukowski's life was telling his 16-year-old son there was no hope left in his battle with cancer. "It's one of the most difficult discussions I had with Joel, figuring out how to tell him there was no more hope. He didn't give up. He kept trying. That's why research is important. You can't give up."
"We think about the day Joel was first diagnosed," says his mother Dale Zukowski. "What if there was no understanding of chemotherapy, or radiation or surgery. If they didn't do research, Joel may not have made it more than six months after being diagnosed."
Project lead Dr. David Malkin, based at The Hospital for Sick Children (SickKids) in Toronto, says PROFYLE is bringing together the entire pediatric and young adult national clinical and research expertise to offer precision medicine in a way that has never before been offered in Canada.
University of Calgary clinician-researchers Dr. Victor Lewis and Dr. Jennifer Chan will co-lead the research project in Calgary. Lewis will help identify and treat patients, who may benefit from being enrolled in PROFYLE. Chan will ensure the collection of and access to the right kind of tissue and fluid samples for research into treatment options. The nationwide bio-specimen collection protocols are being developed by Chan, as is the associated clinical data repository, which will be facilitated by the Clinical Research Unit at the Cumming School of Medicine.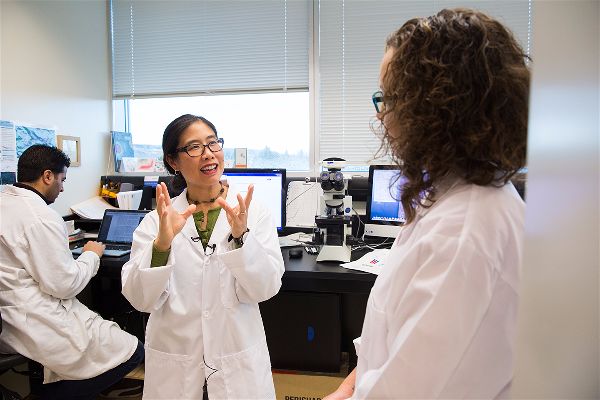 "We now know brain cancers in adults are not the same cancers that develop in children," says Chan, who holds the Kids Cancer Care Chair in Pediatric Oncology Research. "We've learned that while the tumours may appear the same to the naked eye, and even under the microscope, at the molecular level, they are very different, and that means we need to develop new treatment protocols for kids."
Chan's lab is supported by investments from the Alberta Children's Hospital Foundation and the Kids Cancer Care Foundation of Alberta made possible by you.
"We are thrilled to see the Terry Fox PROFYLE initiative come to life," says Christine McIver, Founder and Chief Executive Officer of Kids Cancer Care. "If we are going to make any progress in treating incurable children's cancers, we need collaboration at all levels of society – government, industry, universities, hospitals, charitable organizations, individual and corporate philanthropists. PROFYLE is that collaboration and will bring hope to Canadian families who currently have no hope for a cure. We're so grateful to our generous community for making this possible."
"It's generous support from the community that makes innovations and advancements for kids possible," says Saifa Koonar, President and CEO, Alberta Children's Hospital Foundation. "Working alongside partners like Terry Fox PROFYLE and Kids Cancer Care helps us keep kids' health a research priority."
While there has been dramatic improvement in treatments and outcomes for many pediatric cancers over the last three decades, for the 20 per cent of young people whose cancers continue to spread, return, or resist treatment, outcomes remain grim.
"Maybe in 20 years a child with the same cancer as our Joel-Bear survives. I wish that was my kid, but Joel lived six years longer than a kid 20 years ago and we're very grateful for that," says Joel's mom.
Thank you for bringing hope to children by supporting research.
Jennifer Chan, MD, is an associate professor in the departments of Pathology and Laboratory Medicine, Oncology and Clinical Neurosciences at the Cumming School of Medicine and is a member of the Alberta Children's Hospital Research Institute, the Arnie Charbonneau Cancer Institute and the Hotchkiss Brain Institute.
 Victor Lewis, MD is an associate professor in the departments of Oncology and Pediatrics at the Cumming School of Medicine and a member of the Alberta Children's Hospital Research Institute and the Arnie Charbonneau Cancer Institute.