Colette: cancer conqueror
"It has been amazing to be recognized nationally for this research but more important, is knowing that the research may actually have potential in the real world." ~ Colette Benko
Colette Benko isn't your average 15-year-old. Not because she's already conquered cancer once, but because of her scientific mind and insatiable curiosity. If Colette has it her way, she'll be conquering cancer the rest of her life, but this time, it will be from the inside of a research lab.
Thanks to you, Colette was able to start feeding her curiosity while working as a summer research student in Dr. Aru Narendran's laboratory at the University of Calgary. But this wasn't the first time Colette had been in a research lab.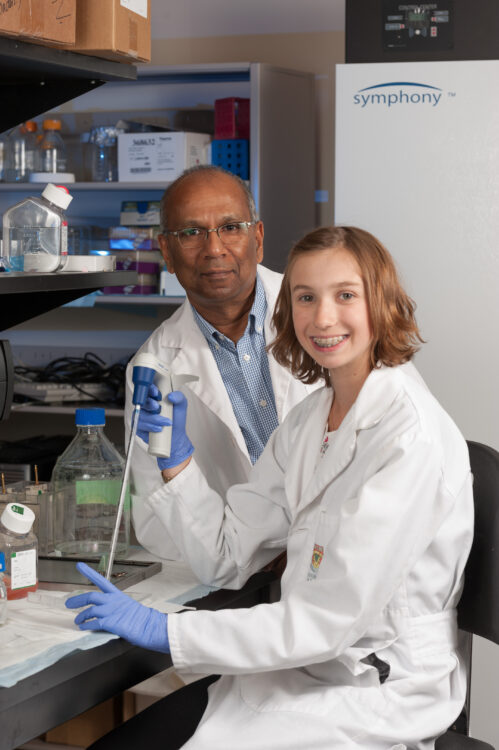 For the past two years, Colette has been enjoying a rewarding and successful mentorship with Dr. Narendran, a pediatric oncologist at the Alberta Children's Hospital and an Experimental and Applied Therapeutics (ExpAT) researcher in the Childhood Cancer Research Program at the University of Calgary.
Colette first met Dr. Narendran at the Alberta Children's Hospital when she was being treated for synovial sarcoma, a cancer of the joints and soft tissue.
"I've always been a science nerd, but I had never done a medical science research project," says Colette. "When Dr. Narendran found out that I love science so much, he agreed to mentor me. He's been a great mentor. He's so kind and patient and he's so committed."
"When Colette talked to me about wanting to do research in our laboratory I was impressed by her extraordinary self-assurance, energy and keenness," says Dr. Narendran. "She reminded me of that Ivern Ball quote, 'Knowledge is power, but enthusiasm pulls the switch.'"
The outcome of that enthusiasm has been two award-winning research projects for Colette.
Last spring, she won a silver medal for excellence in the 2016 Canada-Wide Youth Science Fair and a $2,000 scholarship for her research into a potential new therapy for neuroblastoma, a cancer of the sympathetic nervous system often found in infants and young children. In 2014, her research into an extremely rare and aggressive brain cancer in infants called ATRT won gold in the Calgary Youth Science Fair.
"It's so incredible to work in a lab," she says. "To actually experience and see results, not just read about it, is so satisfying."
Colette is especially excited about the results of the neuroblastoma research, because it may actually have practical application in the world of pediatric cancer one day.
"It has been amazing to be recognized nationally for this research, but more important, is knowing that the research may actually have potential in the real world," Colette says.
Working with students in Dr. Narendran's lab, Colette was studying a unique new drug against three types of neuroblastoma and found that it inhibited growth in all three by stopping the action of a protein called EZH2, which is involved in blocking tumour suppressor genes.
"Normally, our cells rely on a group of molecules called tumour suppressor genes, which constantly act to prevent malignant changes in cells, by causing them to self-destruct," she says. "But some tumour cells overproduce a protein that actually turns off tumour suppressor molecules, so the cancer cells continue to grow. The drugs we're studying, known as the EZH2 inhibitors, aim to block this abnormal mechanism in neuroblastoma cells."
When Colette presented her findings at the 2016 Canada-Wide Youth Science Fair, researchers investigating similar ideas were excited to see her data, as this drug has also shown effectiveness against pediatric brain tumours.
Still in the early stages, Colette's findings seem to suggest that the drug may not only be inhibiting cancer growth; they may actually be inducing cellular death in the neuroblastoma cells. Another promising attribute of the drug is it doesn't seem to attack regular cells, which could mean fewer side-effects for patients.
Working as a summer research student in Dr. Narendran's lab this year, Colette was able learn more about the necessary processes involved in conducting cancer research, while also developing her understanding of the biology of various pediatric cancers.
Colette also continued generating data on her neuroblastoma project, testing whether the drugs are actually capable of inducing death in neuroblastoma cells and assessing what effect, if any, they may have on non-cancerous cells.
After graduating from high school, Colette plans to take her quest for a cure even further. She plans to pursue a Bachelor of Health Sciences at the University of Calgary and follow that with post-graduate work in pediatric cancer research.
Thank you for making our summer student research program possible. While providing scientists with much-needed help in the lab, the program helps ensure that promising young research talent is nurtured for tomorrow.