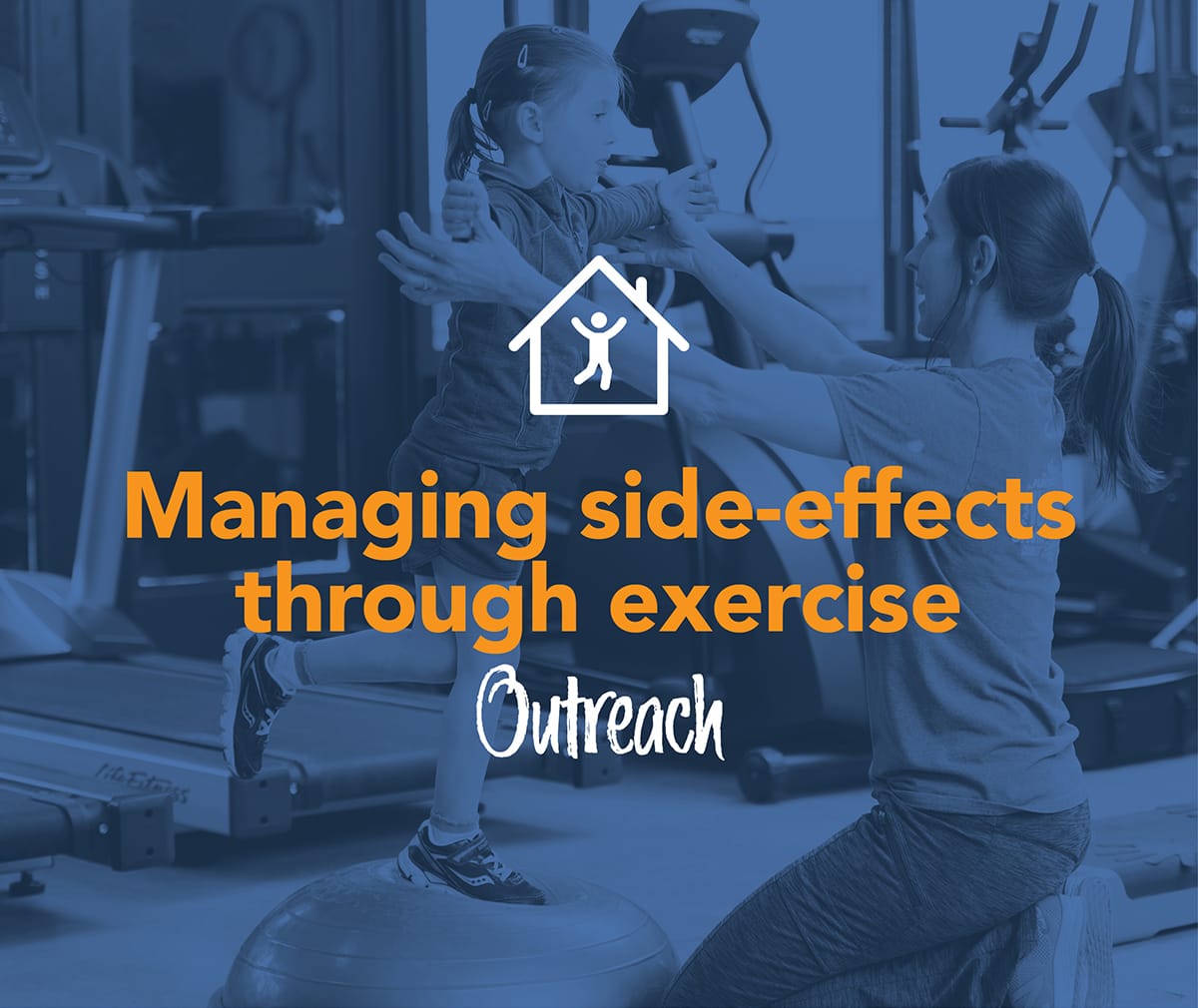 "Arya is keen to exercise. She's regained most of her gross motor skills, balance and coordination. She's almost back in the normal range." — Arya's mom Petra
Although she's only five, Arya has undergone two brain surgeries, three rounds of radiation and a spinal operation. The treatments have caused hearing loss and gross motor delays, but despite these issues and ongoing fatigue, Arya is going strong.
Arya is rebuilding her strength at PEER, an exercise program we were able to expand in 2018 thanks to a generous gift from the Calgary Flames Foundation. In addition to the group exercise sessions on Wednesdays at the Gordon Townsend Gymnasium, children like Arya are also benefitting from regular exercise throughout the week through our one-to-one and home-based PEER programs.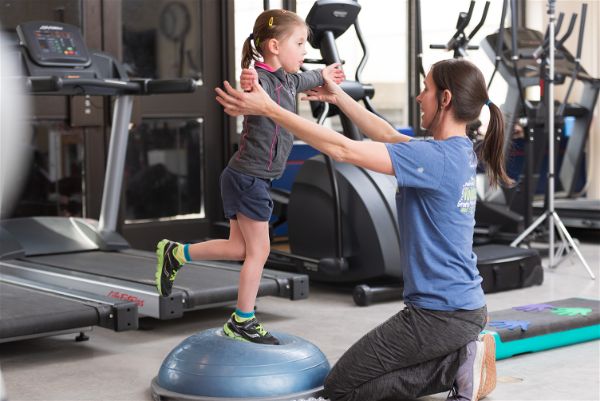 A growing body of evidence is showing that regular exercise can play both a therapeutic and preventative role in combatting treatment-related side effects in children.
The expansion of PEER is part of Dr. Carolina Chamorro-Viña's long-range plans to improve outcomes in kids with cancer by increasing their physical activity levels. As coordinator of the PEER program at Kids Cancer Care, Carolina is working with a team of volunteers to make regular exercise an easier option for children by extending the existing PEER program:
You are helping us reach more kids through a new PEER program in the south
With your ongoing support, Carolina has been offering PEER exercise sessions in northwest Calgary since 2012. These group exercise sessions take place on Wednesday evenings in the Gordon Townsend Gymnasium at the Alberta Children's Hospital. While demand for this program has grown steadily over the years, getting to the northwest is challenging for families on the south side of the city. That's why Carolina is putting plans into place for a group exercise program in Calgary south. The new program will be offered in October 2019 at Wellspring Calgary's Randy O'Dell House location.
Your support is making one-to-one exercise sessions possible for kids who need extra help
Over the past year, Carolina has also been working one-to-one with children who require extra support or who are unable to attend the group exercise sessions due to health concerns. These one-to-one exercise sessions are designed to address the unique needs and cancer-related side-effects of each child.
Research shows that children with cancer are less active and do not engage in the recommended amount of physical activity for optimal growth and development. Carolina is committed to making sure children with cancer meet the Canadian General Physical Activity Guidelines through our new home-based exercise program. Thanks to your support, children can now safely engage in moderate to vigorous activity at home every day, in addition to running and playing with other kids during the weekly group sessions.
You are helping shape international exercise guidelines for kids with cancer
Carolina has also been collaborating with Dr. Nicole Culos-Reed and her research team at the University of Calgary's Health and Wellness Lab. Working with more than 90 researchers and clinicians around the world, these Calgary researchers are developing evidence-based exercise guidelines for children with cancer. These guidelines will provide practical direction and support for individuals at multiple levels, from health care professionals to children and parents. This group will present their research methodology at the Canadian Association of Psychosocial Oncology Conference in Calgary in September 2019.
The ultimate goal of this international research group is to see exercise programs become standard of care for children with cancer in hospitals worldwide. Carolina has seen the benefits of exercise in children with cancer firsthand and, until exercise becomes standard of care in hospital, she is committed to making PEER more accessible through our home-based and one-to-one exercise programs.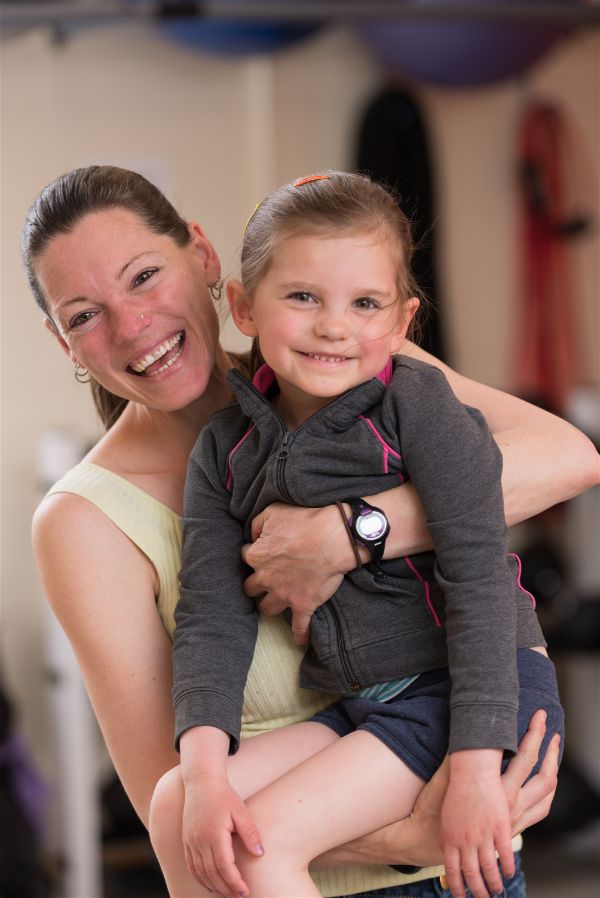 Arya was one of the first kids to take advantage of the newly expanded PEER program. Working one-to-one with Carolina and her mother, Arya now engages regularly in yoga, sports, exercise games and gymnastics. Increased physical activity is helping Arya to counter the side-effects of radiation by rebuilding her gross motor skills; building bone density to reduce her chances of bone degeneration; and restoring brain neuroplasticity to prevent cognitive delays.
Arya's mother Petra McDougall has noticed the gains. "She's regained most of her gross motor skills, balance and coordination," says Petra. "She's almost back in the normal range. She likes coming to PEER. She plays hard, in 40-minute bursts of energy, and then she stops."
With 80 per cent of the tumour remaining in her cerebellum, Arya's prognosis is not good, but her parents are determined to give her every advantage.
Arya is just as determined as her parents and definitely living up to the strength of her name. Arya means lioness and you can see the determination in her eyes as she grits her teeth to hop on one foot or navigate the thin line of balance beam without falling. She is lion-hearted. Five years old and fighting with all her might.
---
Thank you for helping kids beat the side-effects of cancer treatment with regular exercise. Special thanks to the Calgary Flames Foundation for supporting the growth of our PEER program.