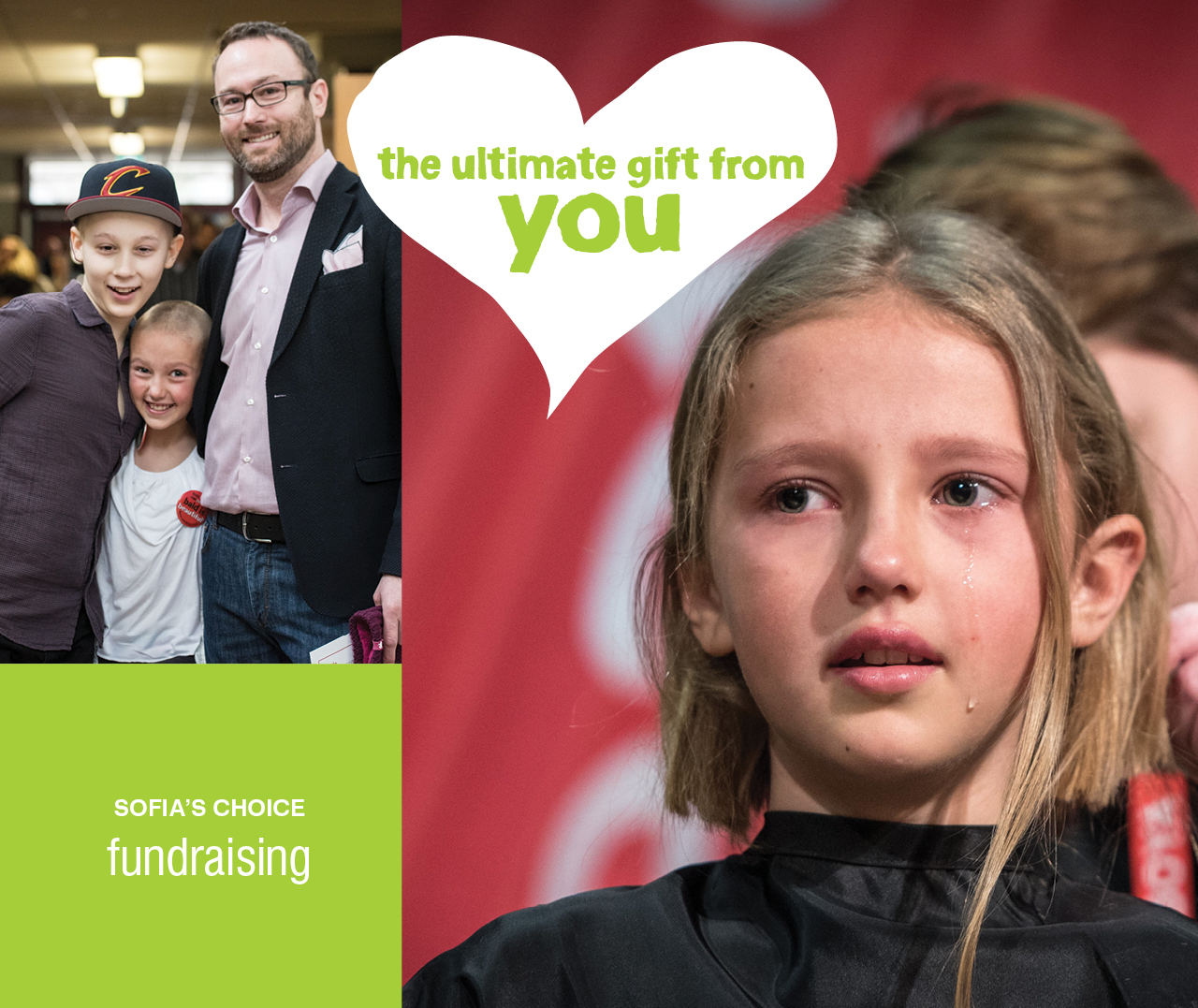 "My hair has never been cut and what hair I have has taken my whole life to grow and I love it very much. Now, my brother Rand is losing his hair, so it's time for me to lose mine in support of him and other children with cancer. While this might seem scary, losing hair is one of the least scary things Rand is facing." – Sofia Smith
It was the ultimate gesture of love and one that captured the hearts and imagination of people everywhere.
When Sofia Smith first told her father she wanted to shave her head to raise money for cancer, he tried to talk her out of it. But Dallas Smith quickly realized there was no deterring his nine-year-old daughter.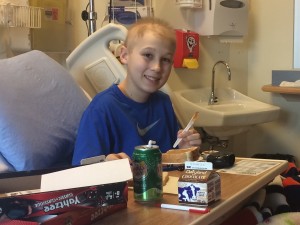 Five years ago, Sofia lost her mother Tatiana Smith to cancer and she had just learned that her 14-year-old brother now had cancer.
"When I heard Rand, that he had cancer, I didn't really like the sound," says Sofia. "I thought, 'Well, is there something I can do?'"
Sofia decided to fight back in the only way she could. On April 21, she joined fellow students and teachers at Elboya School's fifth triennial Shave Your Lid for a Kid® event. With tears streaming down her cheeks, Sofia shaved her head and raised over $25,000 in honor of her mother and brother.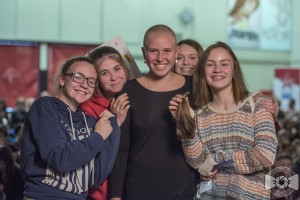 With 70 individuals shaving their lids and raising funds, Elboya School hosted one of its largest shaves ever. Together, the students and teachers raised $76,683, bringing their total fundraising revenue over 15 years to $451,683.
"Elboya began fundraising for Kids Cancer Care as a way to give back to those in need," said Melanie Hunchak, a teacher at Elboya. "Now it has turned into a tradition that, every three years, students, teachers and parents look forward to. This year is particularly important, as we have a student whose family recognizes just how important Kids Cancer Care is."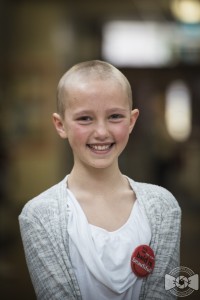 As the razor drew perfect lines over Sofia's head and the blonde tuffs fell, a rush of emotion overcame the little girl. She steadily wiped away the tears, as her father whispered words of encouragement in her ear.
Her brother Rand watched in awe as his little sister courageously sacrificed her hair in an act of love and solidarity for him.
"I can't believe she did it," he says, removing his baseball cap. "Now I'm not the only one with no hair."
"I feel really good," Sofia beamed afterwards. "It makes me feel good, because I'm doing it for someone I really love."
rand's journey
Rand's prognosis is good, but he and his family still face a long, uphill battle. The demands of childhood cancer take an enormous toll on the child and the family. These demands are especially taxing for single parents like Dallas, who is caring for Rand at the hospital, while raising kids, running a household and working full-time.
"It's exhausting, to tell you the truth," he says. "We were so grateful when Mary and Jenna from Kids Cancer Care showed up at our door with all these home-cooked meals. It was one less thing to have to worry about."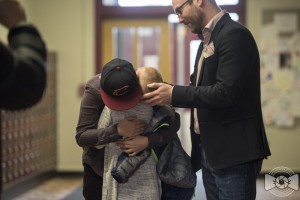 Still, Dallas is quick to point out that he isn't shouldering it completely alone: "If there was ever something good to come of a blended family, it is now. Rand has a lot of people who love and care for him. His mother Kendra rotated weeks on and off at the hospital with me, so we both got regular breaks."
Rand and all his siblings, including Sofia Smith, Ashton (13) and Elise (6) Strube from his mom's second marriage with Travis Strube, have been deeply affected by his cancer. And, of course, both families actively supported Sofia's head shave with generous donations.
After celebrating Rand's last chemo treatment in May, Rand and his siblings are looking forward to some outdoor fun and adventure at Camp Kindle.
"Kids Cancer Care has been very good to us," says Dallas. "We enjoyed Pizza Nights at the hospital and now the kids are all registered for summer camp. We are so grateful for their support and we're thrilled to be able to offer something in return."
What started as a $500-stretch goal for Sofia, turned into a media and fundraising extravaganza with news agencies across the globe covering the story of the little girl from Calgary girl who surrendered her hair for her brother.
Thank you, Elboya School! Your steadfast support continues to inspire countless young people in Calgary. Your shave event demonstrates that KIDS CAN make a difference.
 Thank you, Sofia! Your love and compassion is moving mountains of support for children with cancer everywhere.
See all the news stories on Sophia's shave!