Twenty years with Theatre Calgary and Scrooge: making memories together
I'm going to show you the best Santa-But-Not-Actually-Santa pictures you've ever seen. Let me set them up. ~ Dave Kelly
Theatre Calgary has been doing A Christmas Carol in this city every year for over three decades. Stephen Hair has been playing Scrooge for over 25 years. It's a tremendous production every year and every year he's a tremendous Scrooge.
For 20 of those years, on the Sunday before the official opening night, Theatre Calgary has been doing a special Christmas Carol for a very special audience. Alanna Schwartz has been going to that Sunday show every year since 2002. And she has pictures to prove it. That's where the Santa-But-Not-Actually-Santa pictures come in.
The Sunday night show is hosted by Kids Cancer Care, a tremendous group that does exactly what the name says. That night young people can show up with an IV pole, with a mask, or with a nurse and no one bats an eye. And if you're six-year-old Alanna and you're six months into chemo and radiation, you might show up with a wig and a hat…and your cousin Kenzie.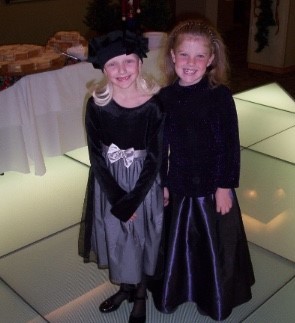 "Little Miss A was so sick," explained her mom Jody. "When they portrayed Tiny Tim's death in the play, I was a basket case trying to be brave as I sat beside Alanna and held her skinny little hand."
After the show, the cast came out to say hello, and Alanna and Kenzie got to meet Stephen Hair. "He was so kind, so warm, and the kids were vibrating," Jody said. "My heart was full."
"Then," she said, "something magical happened."
An oncology doctor who knew Jody walked up to her with a Mom and her teenage daughter. "I have someone you should meet," said the Doc. The Mom asked Jody how Alanna was doing. Clearly this woman knew a hat and wig when she saw one. Jody talked a bit about Alanna and her diagnosis; her heart still full from the play, full from trying to be a brave mom and not a scared mom. Then the woman looked at Jody and said, "My daughter had the same thing," and put her arms around the teenage daughter standing beside her. A beautiful, healthy young woman.
"You could have knocked me over." Jody told me. "We were looking for just a bit of joy and that night I found it in Stephen Hair and in A Christmas Carol, and then, in the middle of it all, I also found hope: this mom had her arms around living proof that you can beat cancer."
And for the past 16 productions of Christmas Carol, Alanna and her cousin Kenzie have gone every year. They go because the show is great. They go because Stephen is great. And they go because Jody tells them you never know if a Trying-To-Be-Brave Mom is there with their sick child – and they need hope.
"Some people have pictures with Santa at the mall to monitor how their kids have grown. We have Stephen as Scrooge pictures."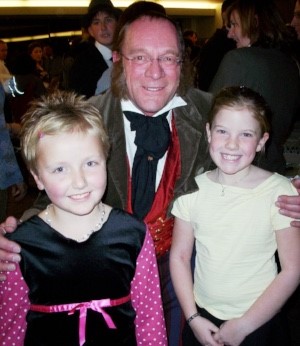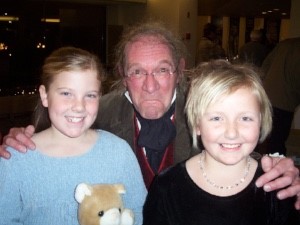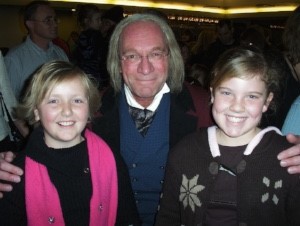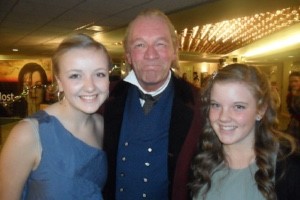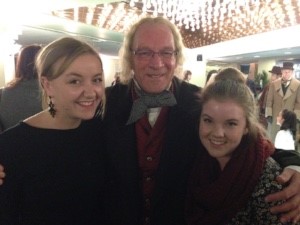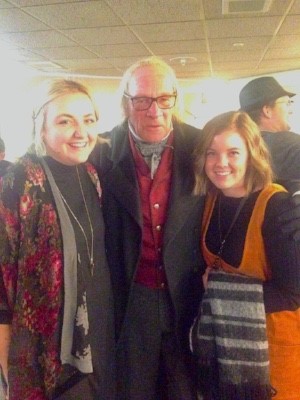 This was last year. The picture isn't great. Alanna's boyfriend took it. I like to say that. Alanna's boyfriend. Not because he's a bad photographer. I just like to say it. Alanna's boyfriend.
And so, this Sunday Stephen Hair and the rest of the cast are going to put a special performance of this year's brand new A Christmas Carol. It's a show that gives people joy, a show that gives people warmth and, even if they don't realize it, it's a show that gives people hope.
Good for you Stephen – and good for you Alanna.
Love,
Dave
Fri December 7, 2018 – 7:30 PM
Join Dave for another Christmas edition of Dave Kelly Live, Calgary's talk variety show. Featuring special guests, surprise appearances  and the best in Canadian talent, stories and music. This show will feature the Calgary Stampede's Young Canadians. Once again, Dave will be joined by our house supergroup, The Flat Whites, world-renowned visual artist Mandy Stobo, and the man with the beer – Jim Button. Click here for tickets.
Published with permission from Dave Kelly.