We started to notice that Kaidan wasn't feeling well the same night he was given his first round of immunizations, so it was tricky to know what was going on. I called Health Link twice that first night, saying he was so lethargic and crying so much. They assured me that it was just a reaction to his immunizations. The next day I phoned our family doc and made an appointment but he couldn't find anything wrong. He chalked it down to an ear infection and gave him antibiotics. My mama instinct went into over drive, saying, "No way. Don't give him that. He hasn't got an ear infection. Something is very wrong here!" We had a three-year-old son Josh at that time, and he'd had many ear infections in his short life so we knew the symptoms well. Our bouncing baby boy of six months went from the happiest baby we'd seen to a crying whimpering little guy with zero energy. At this point, he just cried all day long and could barely lift his head.
We had been using cloth diapers and he'd always had this patch of dry skin that used to irritate him on his upper thigh. He'd always scratched it a bit. I noticed that it was bruised where he'd been scratching in the middle of the night when I'd changed his diaper. I called my mother-in-law in England first thing in the morning to ask her if it was possible to scratch a bruise and she said no, it definitely wasn't. She asked how he was and what he was doing then. I said that I'd just woken up and that he was still sleeping. She said that I should check his skin on his belly under his sleeper for tiny dark dots. While she was still on the phone I did and found that he had these tiny dots all over! She told me to get him to the hospital right away, that he had petechiae– small red or purple spots on the skin caused by a minor bleed from broken capillaries.
I dropped Josh off with my husband Alastair (he was working on a house that we renovating) and picked up my friend Lisa because I felt too scared to face this on my own! We drove to the Foothills Hospital initially. I had never had a sick baby before and just thought hospital – not children's hospital. They took one look at Kaidan and said, "Get him to the Alberta Children's Hospital right away; you have a very sick little boy there." It was awful. I was terrified. I couldn't get there fast enough!
We went to the old children's hospital and there was a massive line up. I said, "I think my son has meningitis. Please let me to the front of the line." Everyone did! When the triage nurse saw him, they took us right into a room. Within a few minutes, he had an intravenous line in and what seemed like a million doctors around him. They wouldn't tell us anything. They kept asking me when my husband was coming. He was on his way. It took him a long time it seemed! They had social workers there, on the ready, just waiting to tell us the awful truth.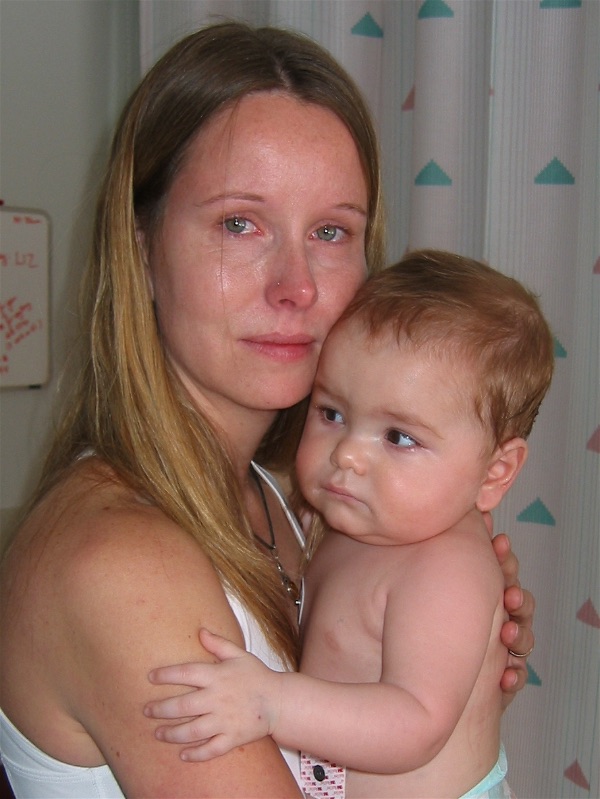 Finally, after what felt like a lifetime of waiting, Alastair arrived, as well as our group of friends that were our family. We were told that Kaidan had infant leukemia. In that moment I felt like our world was ending and, in a way, it did. At least our old world did, the only one we knew.
Kaidan was given a 50 per cent chance of survival and we were told that if we hadn't brought him in when we did, that he wouldn't have lived more than three more days! Such a shock! As our new normal started to settle in we began to move forward. Alastair's parents flew in from England to help us come to terms with our new lives. We were told that we'd become permanent residents of the children's hospital for the next year, while Kaidan went through a grueling treatment of chemotherapy at just six months!
It was definitely a hard time, especially for Josh, who had his whole world ripped apart. He was used to me being around all the time and suddenly I was gone and so was his dad. We ended up getting a nanny who we just loved and who was absolutely amazing for Josh! We got into a routine, where one of us would sleep at the hospital with Kaidan and one of us would sleep at home with Josh. Funnily enough, if I was at the hospital, Kaidan woke up all night long to breastfeed and if it was Alastair, he didn't wake up once, even though I'd pump my milk for him each time, just in case!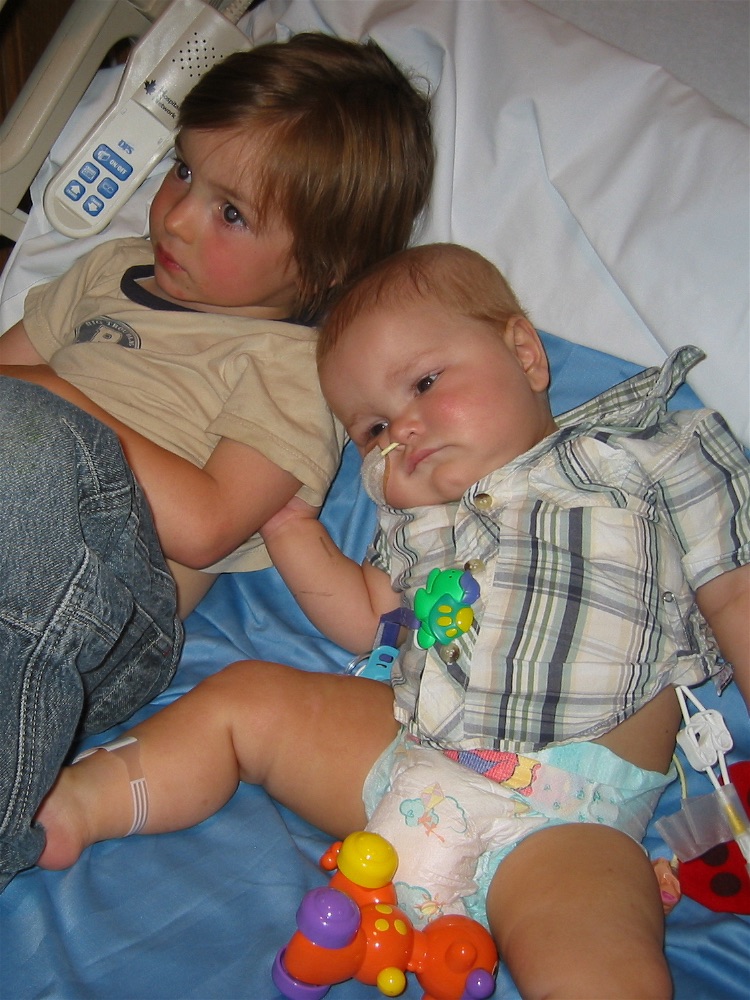 There were quite a few emergency situations where things went terribly wrong for Kaidan and his treatment. But it felt like a lot of the time he was doing really well! We did end up being able to bring him home for a few days at a time, which at first was terrifying for us! Having to give him all of his medication on our own was really overwhelming at first! Eventually, even that became normal.
Josh ended up going to camp with Kids Cancer Care. At this time he was just three years old and just loved being with people! We were living quite secluded lives, afraid to mix with the public and risk bringing any sort of sickness back to Kaidan. It ended up being good for all of us! We met other parents who were further along in their journeys, who had stories to share, both good and not so good. I remember vividly, picking Josh up from camp one day, with Kaidan in my arms, and talking to a lady named Brandi. I asked her which kid was hers running around the playground and she said "That one, that one, that one and that one!" I was pretty shocked at how many kids she had! I then asked her which one had been sick. And she said that sadly, he didn't make it. I was shocked and saddened to my core! She seemed so peaceful and happy. How was that possible? We chatted for a few more minutes and then we parted ways. Who knew what a big part of our lives she'd one day become. When the unthinkable happened eight months later, I searched for that lady Brandi!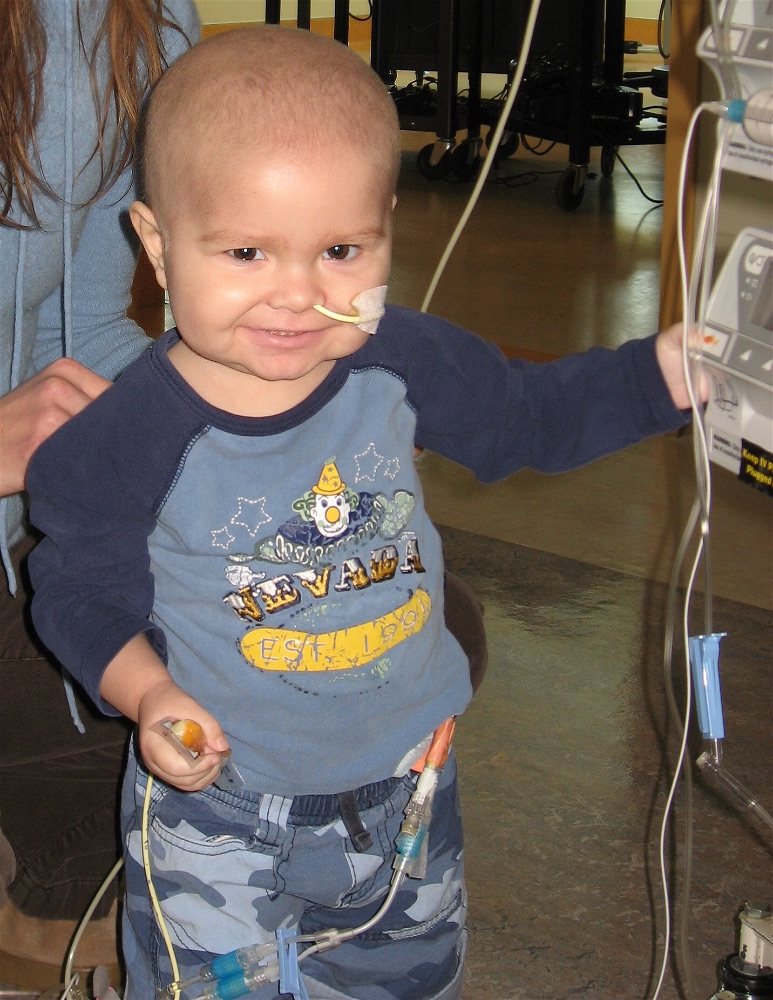 About 10 months into Kaidan's treatment, his doctors said to us that we was doing so well. He'd made it through the hardest part and we were in the maintenance phase. What did we want to do with our lives? It was time! We had sold our yoga studio in Canmore about a year and a half before and had always regretted it. We had always wanted to build another one and it was then that we decided to look for a space in Calgary to build a new one! We actually had Kaidan out on day passes when we went looking for locations. When we saw the space in Mission, on 4th street, next to a Lululemon store, we knew we had found the perfect spot! It all fell into place pretty quickly and Alastair began turning the former dental laboratory into Yoga Santosha! Although at the time, we hadn't quite named it that! Santosha means contentment and after Kaidan passed away, we realized that that is what everyone wants in life, to feel content. We weren't sure if we could ever feel that way again, but we sure wanted to!
As Alastair finished up the demolition over the next couple of months, things with Kaidan seemed pretty stable. Kaidan was home for about a week when I noticed that he was feeling unwell. He threw up, so it was a one-way ticket back to the hospital for us. It was determined that he had a bacterial blood infection and we were all pretty nervous!
He had klebsiella pneumonia – one of the super bugs. Over the next five days, he just got worse and worse. It was terrible and very scary! He just kept getting puffier and puffier until he was just huge around his torso! His last night was unbearable. Oddly enough, his blood samples had come back clear, so his doctors believed he was going to get better and that he would turn a corner. I could tell that that wasn't the case. He was barely responding and his heart rate was all over the place. It was a scary night with him, with no doctors, as that last night there was no over-night doctor around. He held on until Alastair got there in the morning. He held up his arm to wave to him and then let go. The dreaded code blue. It was absolutely devastating to say the least. The doctors tried to save him for the next four hours but there was nothing else they could do in the end.
Eventually an autopsy determined he had Waterhouse-Friderichsen syndrome (adrenal gland failure) and there was no chance that he could have survived that.
To say we were crushed and devastated beyond repair would have been an understatement. We were definitely in a state of shock and disbelief. We never saw it coming, not ever. Leaving the hospital without him was almost more than we could bear. In fact, we just couldn't leave until they finally said that we'd have to, hours and hours after he passed away.
We very slowly began to get our lives together again with the help of our beautiful son Josh! I truly believe that he saved me! Without him needing me to get up each day I'm not sure I could have! At four years old he became an only child again and my best friend!
We are incredibly grateful that we were able to add a couple more children to our family and both of them helped to heal us as well. Kaidan will never be forgotten, never be replaced and always in our hearts!
We feel that the friendships that we've made at Kids Cancer Care have helped us in so many ways! We've been to Bereavement Camp as well, which was an incredible time to remember our beautiful son and to help other people along in their own journeys. It's an amazing thing to be with people who really get what you are going through. This is why Kids Cancer Care has been so helpful during treatment and beyond!
– Candace, Kaidan's mom