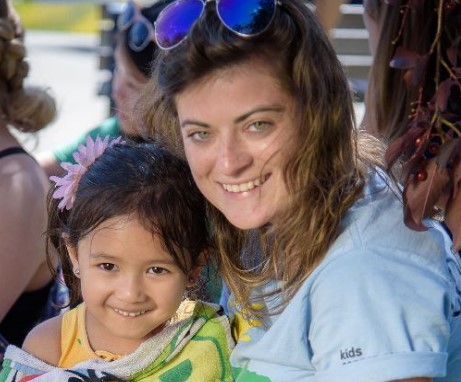 "When the kids come into the clinic and I tell them I used to go to camp too, they don't believe me, so I show them my leg and then they believe me. And there's an instant bond. They call me Penguin, my camp name, because penguins also have a little waddle to their step, like me!" ~ Samantha Andres

As a child I looked forward to summer camp all year long. It was a week away with my brothers, where no one looked at me funny or treated me differently because I have a prosthetic leg. In that way, cancer camp is truly unique. It's a place where all kids, regardless of their cancer history or ability, can do everything. And, at camp, I did it all — swimming, giant swing, rock climbing. As a child, camp showed me that kids CAN. Now, as Kids Cancer Care's nursing coordinator, I am showing children that they CAN too. But first we must ensure their health and safety.
As nursing coordinator, I oversee a team of medical staff and volunteers responsible for the medical needs of about 500 children at Camp Kindle and at our SunRise day camps in Calgary and Edmonton. All of these kids are in some way affected by cancer, either directly as a patient or as a sibling.
Children on cancer treatment are often immunosuppressed, so they don't have the same fighter cells to fend off infection. This puts them at high risk for contracting communicable diseases such as colds and flus or common childhood illnesses such as chickenpox. Infection is serious for children on treatment and it is the leading cause of complications and death, so at Kids Cancer Care we take important measures to ensure that camp is as germ-free as possible and that our campers are safe.
Here's 10 ways we keep children at camp safe:
All of our programs are guided by a medical advisory committee led by a pediatric oncologist. This committee is made up of physicians, nurses and other health care professionals in pediatric oncology and hematology.
Camp Kindle is equipped with a modern, fully functioning medical centre, where children receive their daily medications, receive medical care, or just drop by to relax and recharge. The ReKindle Clinic features two private rooms that provide solitude and privacy for children requiring treatment or respite. It is staffed with registered nurses and a pediatric oncology resident and is open 24 hours a day. The nurses are available 24 hours a day.
Camp Kindle is a 75-minute drive from the Alberta Children's Hospital and our SunRise day camps in Calgary and Edmonton are minutes from the hospital.
At Camp Kindle and at our SunRise day camps, we follow strict health and safety protocols, ensuring that staff and volunteers are cold- and flu-free. If a volunteer or staff member begins showing signs or symptoms of a cold or a flu, we immediately quarantine them and then send them home. Staff, volunteers, campers or special visitors with runny noses, sore throats, coughs, gastrointestinal illnesses or upset stomachs are not permitted to attend camp.
Because hand washing is the most effective way of fighting off unwanted germs and illnesses, we train our staff and volunteers to be good role models for the kids, frequently washing their hands and encouraging the same in children.
We also encourage staff, volunteers and campers to wear sunscreen and drink plenty of water during the day. We place sunscreen and water jugs in various locations around camp and ensure that the campers are hydrated and protected from the sun throughout the day.
We also ensure that camp is clean and hygienic, which includes having our professional cleaners and staff doing thorough cleanings daily and weekly.
Our camp programs have an adult-to-camper ratio of 4:1, ensuring that all kids receive excellent individualized care and supervision.
All staff and volunteers undergo police checks and vulnerable sector checks.
All staff and volunteers are experienced and well-trained in attending to the unique physical, social and emotional needs of children affected by cancer.
Our camps offer immune-compromised children a controlled environment with well-screened and well-trained staff and volunteers to oversee their well-being, while the kids have fun. Our camps are safe for all children regardless of where they are in their cancer journey, whether they are on treatment, off treatment or they are a sibling. By taking these special precautions to make camp a safe and healthy environment, we're able to give children affected by cancer the break they need. Thank you for making this possible.
— Samantha (a.k.a. Penguin)
Samantha is a registered nurse, a cancer survivor and former Kids Cancer Care camper.