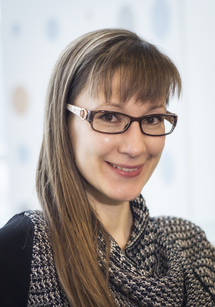 Your support is helping to attract top research talent to Calgary
Dr. Sorana Morrissy is one of Calgary's newest recruits to the Childhood Cancer Research Lab at the University of Calgary. She is investigating a devastating children's brain cancer and predicts that one day we may be able to monitor a child's risk of relapse with a simple blood test. 
With a bold new research lab and a world-renowned tumour bank, Calgary was the ideal place for Dr. Morrissy to relocate her lab and continue her research into medullablastoma, an aggressive pediatric brain cancer. Her research is already offering important insights into this disease. And your support helped bring her here.
"While the prospect of working in a brand new lab environment was compelling, I was especially drawn to the collaborative nature of the work being done at the Alberta Children's Hospital Research Institute and University of Calgary," says Dr. Morrissy. "The multidisciplinary approach is invaluable in our quest to find new answers for kids fighting cancer."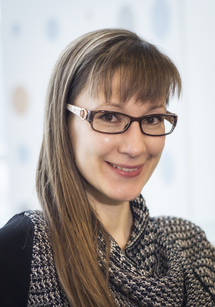 A medical geneticist from the Hospital for Sick Children in Toronto, Dr. Morrissy is working with researchers specializing in brain tumours and the immune system. She is sequencing medullablastoma tumour samples to understand why some cancer cells elude chemotherapies and why others don't. Employing advanced computer systems, Dr. Morrissy and her research team apply complex mathematical analysis on the genetic code extracted from medullablastoma tumour samples. With this information, they are able to calculate and predict certain responses in the tumours, which they can later test in the lab.
Medullablastoma is the most common type of children's malignant brain tumours, representing 20 per cent of all children's brain tumours. Although we have seen significant advances in research and care, about 30 per cent of all children diagnosed with this brain cancer do not survive.
The ultimate goal of Dr. Morrissy's research is to understand the molecular changes in tumour cells that make them resistant to cancer treatments. Armed with this information, they can begin laying the foundation for identifying and developing new targeted therapies that will save lives without causing devastating permanent damage to the child.
"In Calgary, there may be three to four cases of medullablastoma a year, but in every case, treatment causes heartbreaking damage to these young developing brains," says Dr. Morrissy. "It's important for us to find better ways to help these kids and their families."
None of Dr. Morrissy's work could be done without a robust collection of tumour samples. Thanks to your support, Calgary boasts one of the largest collections in North America. "The tumour bank here in Calgary is exceptionally rich with large samples," says Dr. Morrissy. "It allows us to examine cells from different parts of the tumour and see how the tumour grows and adapts over time."
Dr. Jennifer Chan, who oversees the tumour bank with over 20 types of tumour samples, is pleased to have Dr. Morrissy on the Calgary research team. "It's exciting to be adding experts like Dr. Morrissy to our exceptional team of researchers in the Childhood Cancer Research Program," says Dr. Jennifer Chan. "Her findings are already revealing interesting new approaches to tackling this very difficult diagnosis."
"We know that metastases of medullablastoma are entirely devastating," says Dr. Morrissy. "It's important to understand how the cancer cells spread from the primary tumour to distant sites on the brain surface – our research indicates that they cross the blood-brain barrier and travel in the bloodstream throughout the body, homing back to the brain where they grow as deadly metastases. This tells us that perhaps we can monitor the risk of the cancer recurring by doing simple blood tests. It's a hypothesis at this point, but it gives us a place to start."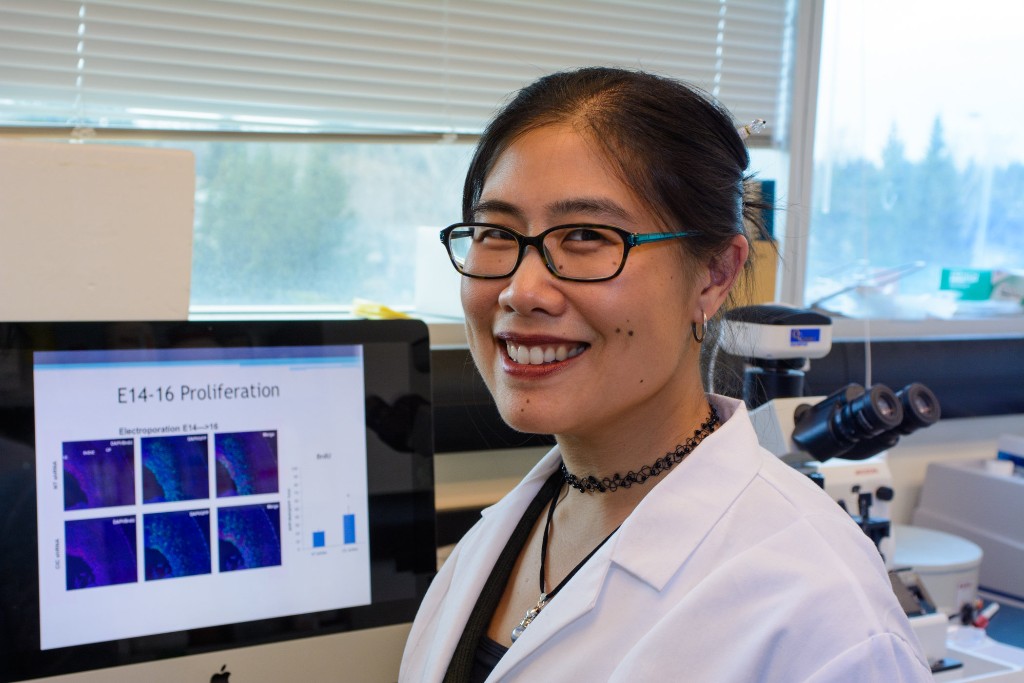 The new Childhood Cancer Research Lab at the University of Calgary Cumming School of Medicine, which opened last December, complements the strong culture of innovation and collaboration that was so attractive to Dr. Morrissy. The open concept and shared work spaces of the lab encourage easy interaction and collaboration among researchers.
"Seasoned researchers will tell you the simple conversations that happen in the lunch room or hallway are where some of the best ideas are born," says Dr. Chan, the Kids Cancer Care Chair in Pediatric Oncology, who is the brains behind the new research space. "We wanted to create a space that would make those conversations a part of our everyday experience. Since the lab opened in December 2017, we are already seeing more connections being made between labs. It's very gratifying and our hope is that it will ultimately result in some promising findings for the kids and families we are working so hard to help."
Adapted with permission from the Alberta Children's Hospital Foundation