The speed of the car picks up and they enter what racers call the 100-mile-an-hour club. It is at that moment that Connor's whole face lights up.
Sitting in a coffee shop in Calgary's inner city on a chilly February afternoon, Brent Thorkelson describes one of his most memorable days.
In the sunny Okanagan on a gorgeous May long weekend, Brent is behind the wheel of his 2007 GT3 Porsche. A Porsche lover since he was five-years-old, Brent knows this car well.
His passenger is a young man named Connor. Earlier that day, Brent had met the shy preteen. Brent says, "Connor seemed so sad, he was quiet, almost depressed" as he climbed into his race suit, put on his helmet and was strapped into the five-point harness.
And he had every reason to be. This weekend was a rare break from his childhood cancer treatments.
Brent and Connor are driving up Knox Mountain as part of the Knox Mountain Climb, an annual event in Kelowna. Trees blur past them and the road winds. In just two minutes they have travelled 5km and climbed 800 feet. They've hit most of the ten turns on the route. The speed of the car picks up and they enter what racers call the 100-mile-an-hour club.
It is at that moment that Connor's whole face lights up.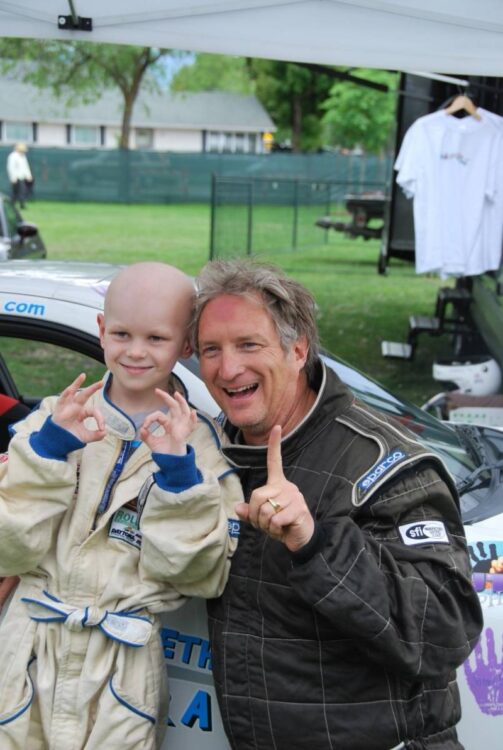 Brent can't help but smile. It's not the first or the last time he will venture up Knox Mountain. In fact, he does it every year.
Hands Together for a Cure is a passion project for Brent, his wife Lenora and their son Ben. Brent has always been involved in motorsport and wanted to use his passion to give back.
As an Advanced Care Paramedic for over 28 years, Brent finds himself on the scene of countless "accidents." But he doesn't love the word: "The term accident infers that nothing contributed to the event. More importantly, that the event was not preventable. As a practitioner, we see numerous incidents, but very few accidents. You can't get a truer definition of this word than a child being afflicted with cancer. He or she did nothing what so ever to be "saddled" with this unforgiving disease." The Thorkelsons wanted to do something to bring joy and laughter into these children's lives.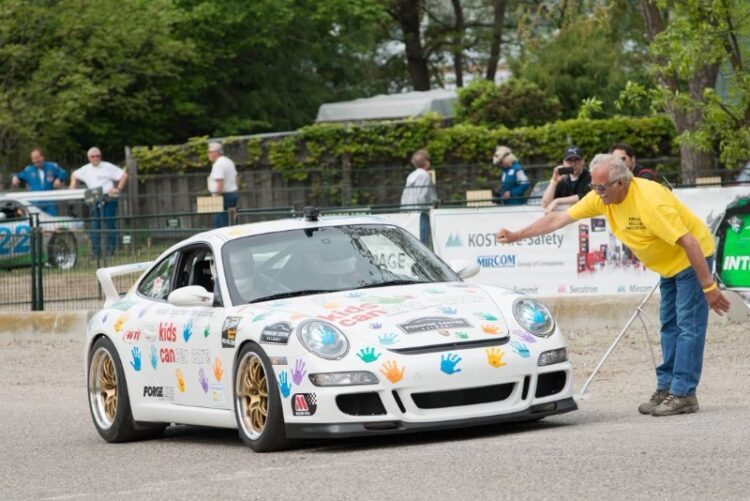 That's where the Knox Mountain Hill Climb comes in. Brent has been going to the Knox Mountain Climb since he was five. The event includes a beer garden, car show and the competitive climb. His dad, now 88, still joins him every year. He knew that something that brought him so much joy could also bring some happiness to these kids, if even just for a day between treatments.
Brent and his Porsche do about 12 to 13 drives up the hill through Hands Together for a Cure each year. The ride is unique in that it gives children an experience they wouldn't otherwise get and at the same time it is a fundraiser. The kids ride for free, thanks to year-round fundraising through Hands Together for a Cure and donations from other drivers in the Knox Mountain Hill Climb. Brent sells the remaining spots at $500, with all the proceeds going to childhood cancer research, including Kids Cancer Care.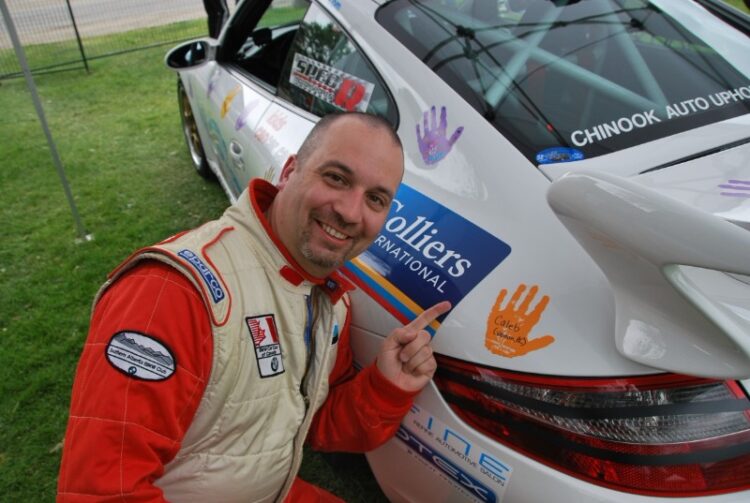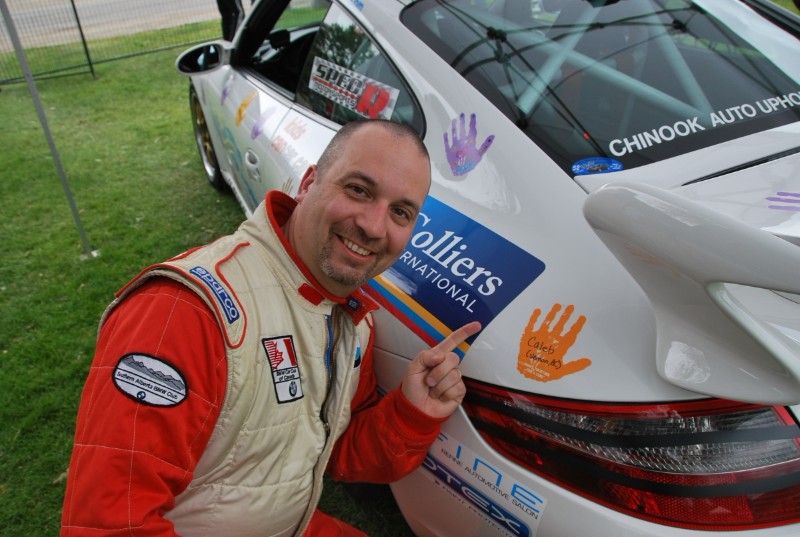 Humbly, Brent shares what goes into making the event a success: a website to maintain, pounding the pavement to sell rider spots, coordinating the kid spots with charities in British Columbia and Alberta, organizing transportation for the families (thanks to CanWest Air Charters), silent auctions, appearances, picking up cheques from donors. That doesn't even touch upon the upkeep of the car, which is covered in handprints of children who have had cancer – a constant reminder for Brent and those involved as to why they do this every year.
And it's all worth it.
Last year, Hands Together for a Cure broke $115,000 total raised in 6 years.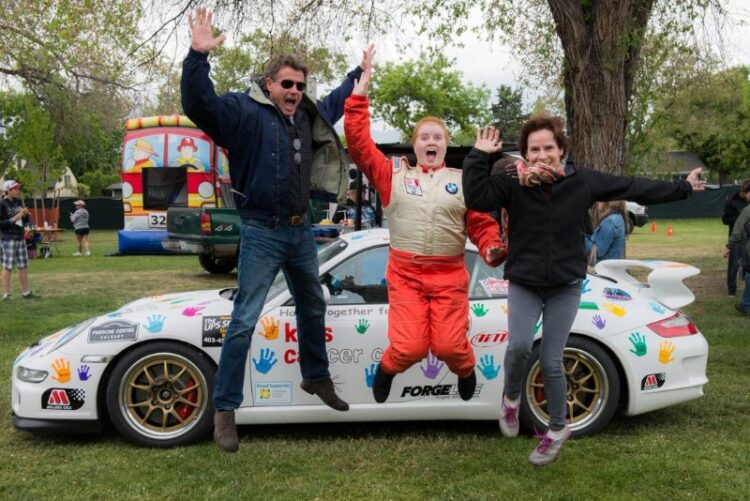 Connor and Brent are at the top of the course and start heading back down the hill. The other drivers unbuckle (no easy task) and get out of the cars. Marshalls line the route and give a standing ovation.
And on the way down, all Connor could say was, "Wow!" Brent can still hear the words clearly in his mind, like it was yesterday.
All the funds raised from Hands Together for a Cure are making a difference in the lives of children affected by cancer. The funds donated to Kids Cancer Care research to change the course of childhood cancer for the approximately 1,400 children diagnosed in Canada every year.
Brent smiles as he shares that Connor is cancer-free today, something he hopes for every child fighting cancer. And that is no accident.
To book your ride with Hands Together for a Cure at The 2018 Knox Mountain Climb, click here.