Liam had always been a picky eater and one day we were trying to get him to eat carrots. He didn't want to eat them and got so worked up and upset that he vomited afterwards. Then the vomiting became more frequent and we didn't understand why. It definitely wasn't the carrots.
After several stomach tests, ultrasounds, blood tests, we were getting nowhere. Celiac disease, stomach ulcers and many other things were ruled out. Yet we still didn't know why or what was making Liam sick. We knew something wasn't right.
One morning, Liam vomited a couple of times, so my husband took him to emergency at the Alberta Children's Hospital. The nurse looked at Liam and immediately ordered a CT scan. My husband called me at work to tell me Liam was going for a CT scan and I knew I wasn't going back to work. I did my last timesheet, packed up my belongings and headed to the hospital for a journey we could have never imagined. Liam was admitted that day and the neurosurgeon cleared her schedule for a marathon surgery the next day."
It's impossible to describe that day and the day of surgery. While the surgical fellow finished the surgery, the neurosurgeon came to tell us the tumour looked like medulloblastoma, a malignant brain tumour. She said this was not going to be a sprint, but a marathon, so we should take all the help that comes our way. Those days were a blur, but we can remember certain details clearly.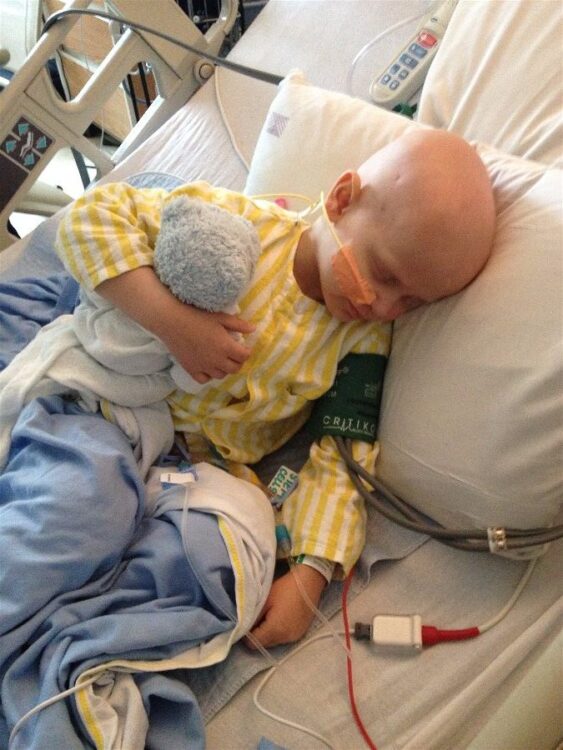 There were some complications from the surgery, but overall Liam's recovery from surgery was incredibly fast. Liam's balance was affected from the surgery. It took a few weeks before Liam was able to walk on his own without falling. He also had damage to his vocal cords and couldn't swallow food or drink. As a result, we were introduced to the world of tube feeding. For 10 months, Liam was almost exclusively fed by a nasogastric tube. Almost immediately into Liam's recovery, we were overwhelmed with discussions on central lines, lumbar punctures, MRIs, chemotherapy, radiation and side-effects.
The next step was surgery to insert a central line, what Liam called his "noodles." The central line is a catheter inserted close to the collar bone and into the large vein going to Liam's heart. The purpose being to prevent the need for Liam getting pokes for everything that was about to come. His central line had to be kept covered to prevent infection and cleaned almost daily. The dressing and constant cleaning caused skin irritation around the central line. As a result, Liam was not cooperative during our daily cleaning. We had to hold Liam down to keep him calm and still as we cleaned the central line.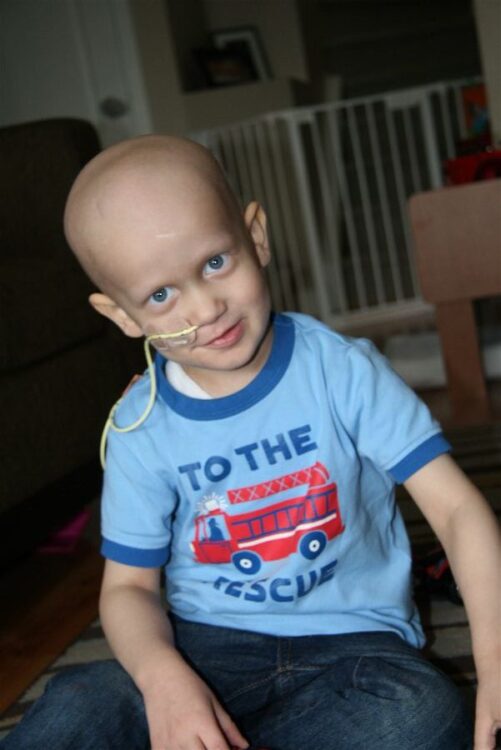 Liam underwent six rounds of chemotherapy and three stem cell transplants. In total, between surgery and days he received chemotherapy, Liam spent 86 nights at the Alberta Children's Hospital. For the three stem cell transplants, Liam spent close to the three months in the hospital. For over six months, we did not have a full week away from the hospital. Even when we were not staying in the hospital, Liam had to go in for bloodwork twice a week and for various appointments to check that the chemo wasn't causing damage to his heart, hearing or kidneys."
Nothing goes smoothly when going through cancer treatment. An MRI after the first two months showed a spot, which was possible recurrence of the cancer. Liam underwent a second craniotomy to remove the spot. Thankfully, this time the surgery was fairly uneventful and the spot was not a recurrence of the disease.
Following chemotherapy, Liam underwent radiation therapy. This required trips every weekday morning to the Tom Baker Cancer Centre for radiation. Each session required Liam to lie on a bed with a tight-fitting, formed mask over his head and neck locked down to the bed, so there was no movement during the treatment. This way they reduced the possibility of radiating healthy tissue. Normally, children as young as Liam have to be put to sleep via anesthetic to keep them still. Miraculously, Liam was able to lie still for 15 to 30 minutes every day, which meant he didn't have anesthetic.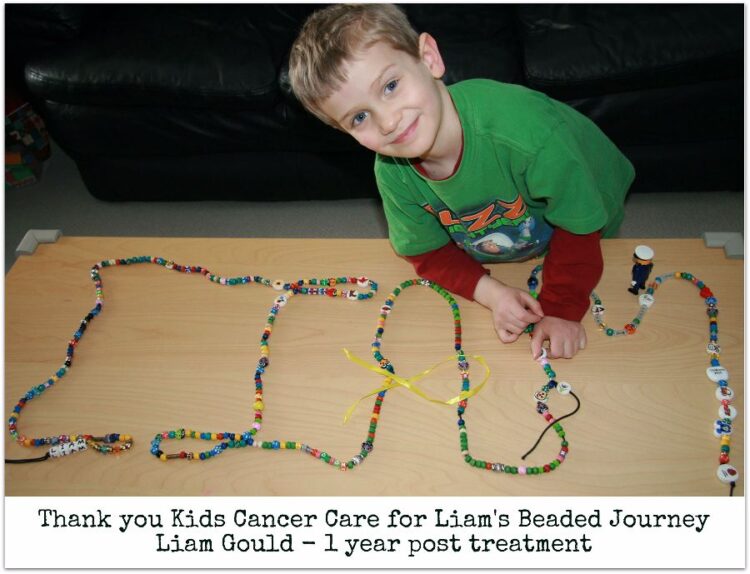 What Liam went through during that year of treatment is hard to imagine. We are so thankful for Kids Cancer Care for giving Liam and our family a reprieve from everything we went through. The weekly Pizza Nights at the Alberta Children's Hospital provided an avenue for us to talk to other people and get a break from the hospital room.
Kids Cancer Care events, such as the COP Ski Day, Halloween Howler, etc., are very special to our family. The volunteers for Kids Cancer Care are special people and bring huge smiles to our faces. They even understand how important it is to provide siblings extra special treatment. Liam's younger sister Madison absolutely loves going to Kids Cancer Care events with Liam.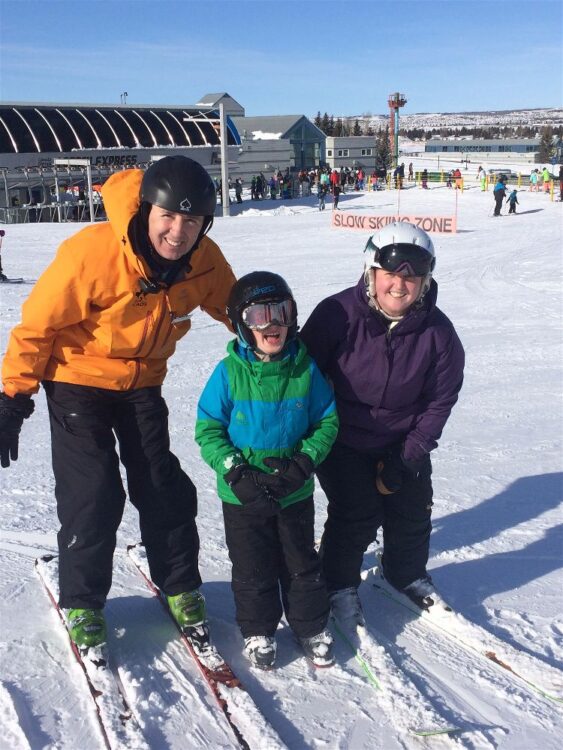 While Liam is now nine years old and cancer-free, he still lives with debilitating side-effects. Due to the treatments he received as a toddler, he has issues with his balance and motor skills. His working memory and brain processing speed have also been impaired. Due to this, Liam requires a lot of repetition to learn. Unlike most kids his age, every time he learns something new, he has to go back and re-learn the fundamentals. Liam knows he is falling behind his peers. It's heartbreaking to watch.
Kids Cancer Care has stepped up and been our lifeline when it comes to Liam's education. Every week, Liam and his tutor Diana meet for one-to-one tutoring sessions through Kids Cancer Care's Education Support Program. They work on his math and reading skills. They even use his favorite Lego players to make learning fun and have friendly competitions around math problems.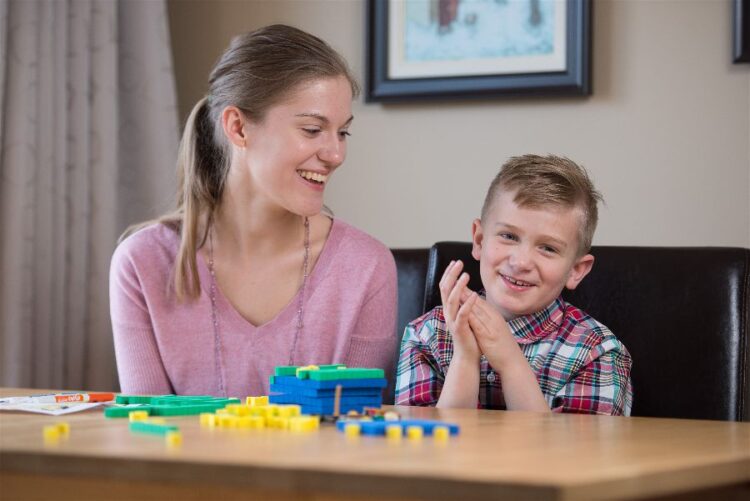 Diana also works with Liam's school teacher to identify areas they can improve upon during their sessions. Thanks to Kids Cancer Care, we have seen an improvement in Liam's school work, and we have noticed that his confidence in learning has grown.
Liam is also improving his balance and motor skills in Kids Cancer Care's weekly PEER Program, a specialized exercise and rehabilitation program for kids affected by childhood cancer.
And of course, where would we be without the amazing Camp Kindle! Liam attended his first Kids Cancer Care camp the summer after treatment. It was the first time Liam did anything away from Mom and Dad. Liam loved everything about camp. Everyone at Kids Cancer Care was amazing and made us feel completely comfortable leaving Liam with them. Liam and Madison have attended SunRise, which is a day camp in Calgary, and for the last night, they slept overnight at Camp Kindle. We never imagined Liam would do it, but he did! The friends that Liam has made at Camp Kindle are friendships that will last a lifetime. There is a shared bond and understanding of what they have gone through during and after treatment.
– Karla Gould, Liam's mom
September is Childhood Cancer Awareness Month and Kids Cancer Care is joining pediatric cancer groups from across North America to draw attention to the tragedy of this disease. We invite you to take a stand in September and show kids like Liam you care by making a one-time gift or by signing on as a monthly donor.