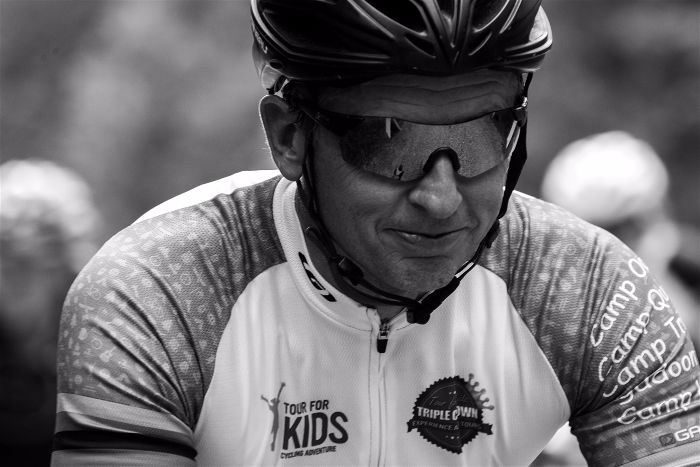 The ride to somewhere meaningful
Taylor was diagnosed with leukemia the year she was supposed to start grade one. She spent two and a half grueling years on treatment. Her story is one of many shared on special dedication boards at registration for Tour for Kids Alberta, a three-day cycling adventure through the Canadian Rockies, where participants fundraise to ride, with all proceeds to Kids Cancer Care.
These special boards each share a different story of a childhood cancer warrior, fondly known by Tour for Kids as ambassadors.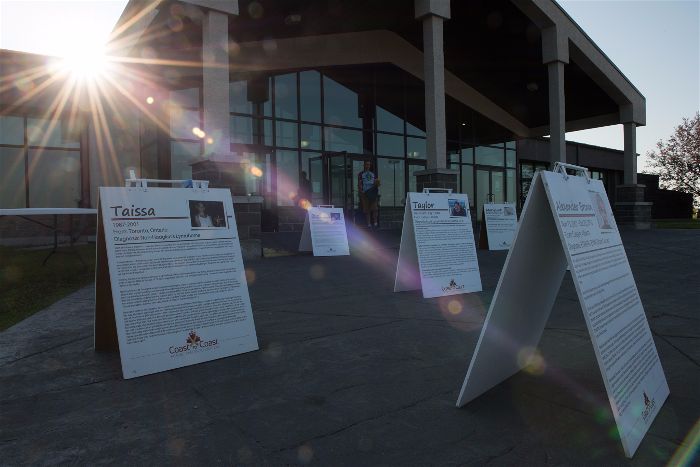 Grant was 15 when he was diagnosed with acute lymphoblastic leukemia. Three weeks later he was in remission. However, the cancer would change to acute myeloid leukemia and, later that year, he was diagnosed with skin leukemia. He passed away six months after his first diagnosis.
Liam. Stephen. Briony. Alexander. Dominic.
These are the childhood cancer warriors that are top of mind for the cyclists on the epic cycling tour through the Canadian Rockies. Each day of riding, a special dedication to one of these children affected by cancer.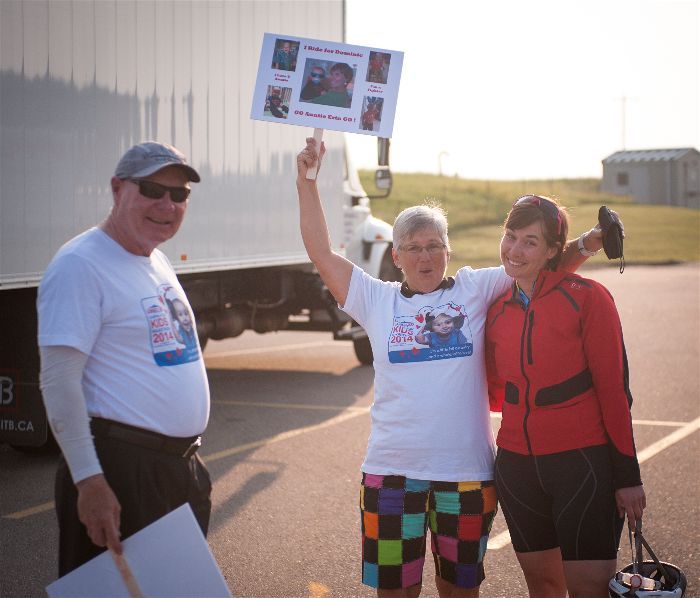 It's always been about the kids for Jeff Rushton, Founder, Chair and Very Passionate Volunteer at the Coast to Coast Against Cancer Foundation. Fourteen years ago, Jeff and some friends started Coast to Coast, the Ontario-based organization behind Tour for Kids. "When we started this foundation, we really wanted one thing: we wanted to make a meaningful difference in the lives of kids and their families going through childhood cancer," Jeff says.
And that's exactly what they have done in the 11 years since Jeff and his team first brought Tour for Kids to Alberta. In total, Tour for Kids has raised $2.5 million dollars for Kids Cancer Care. Through various fundraising events and programs, including the Sears National Ride, Inside Ride, and of course, Tour for Kids, they have raised over $35 million dollars for 50 childhood cancer charities and hospitals across Canada.
Their model is low cost. Hard costs are covered by corporate sponsors. That means Coast to Coast has always given 100 per cent of donations raised to the charities they support.
But what makes the event stand out is the people.
Jeff himself is there at the crack of dawn to greet the riders on the first day and then he joins them on the ride, for every single kilometre. At the end of the weekend, Jeff is there to hand out medals and pat each rider on the back.
"The ride takes you to the edge physically and spiritually," Jeff says, "as you push beyond your own limits and listen to the story of the child you're riding for."
Kids Cancer Care event coordinator Kelsey Morrison adds, "It's a real team effort. The riders, the organizers, the volunteers. No one is afraid of getting dirty or lending a hand to make the weekend the best experience possible for everyone."
Kelly Raymond, Kids Cancer Care volunteer assistant agrees, "There is so much comradery. There is a real human, powerful side to the event, almost everyone has a connection to childhood cancer or has been touched by these kids."
After the ride starts, volunteers start to pack up the dedication boards at registration.
"I need to get a picture of Grant's dedication board before they load up," says Mel, the volunteer co-lead, working with Kelly to oversee the 84 volunteers who work the event. Mel, her daughter Ali and husband Jim have volunteered on the ride for six years. She is also Grant's mom.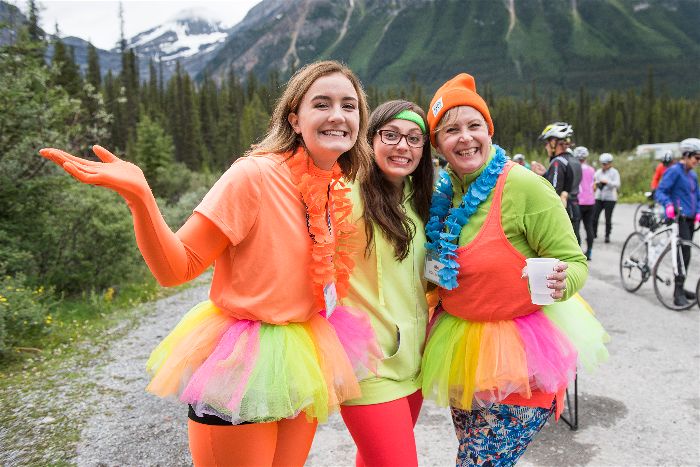 She's not alone. Liam's mom has been a rider two years in a row. Stephen's dad rides too. Briony's mom normally rides, but volunteered this year due to an injury. Briony's sister is the volunteer massage therapist who organizes all the massage therapists and RMTs for the weekend. Alexander's mom and dad are part of the volunteer crew. And Dominic's aunt rides every year.
On the second night of the ride, participants stay at Kids Cancer Care's Camp Kindle where all the kids go each summer thanks to Tour for Kids. First, the counsellors speak of their own experiences as a childhood cancer survivor and sibling. Then, the Inkpen family, a family whose son Foster is currently undergoing treatment, speaks at dinner, reminding everyone in the room where their fundraising dollars go.
"Camp Kindle is our family's island where we dock," says Candace Inkpen, standing before a crowd of cyclists. "Knowing that both kids were in amazing hands at Camp Kindle helped me let go. Just a little. And that is because of you all."
And in that crowd is Taylor. Now 28 and a registered nurse, she rides every year with her dad Dean Wheatley.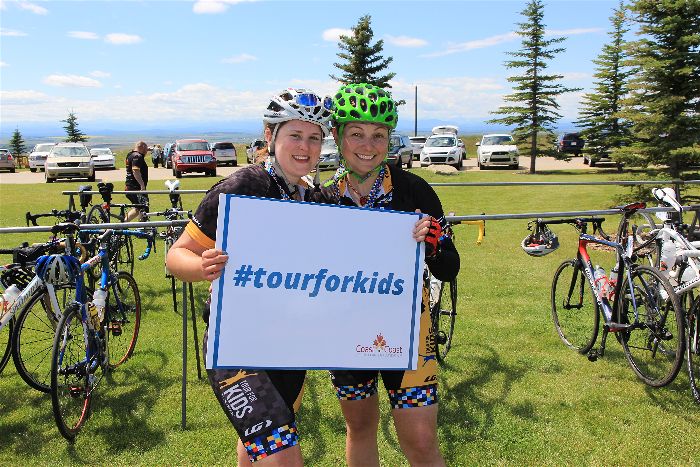 "Taylor Wheatley is amazing," says Kelly. "She and her dad ride all weekend and the rest of the Wheatley family volunteers. And then on Monday, after riding hundreds of kilometres all weekend, she's at SunRise camp, volunteering for a week with our youngest campers."
That's what the ride is for so many. Jeff sums it up best, "We give a lot, but we get so much out of it. It's been an incredible journey…and we're just beginning."
Thank you Coast to Coast Against Cancer Foundation, Jeff, Taylor, Mel, and all the volunteers, sponsors and cyclists who make this event possible. By doing so, you make an invaluable impact in the lives of children affected by cancer and their families