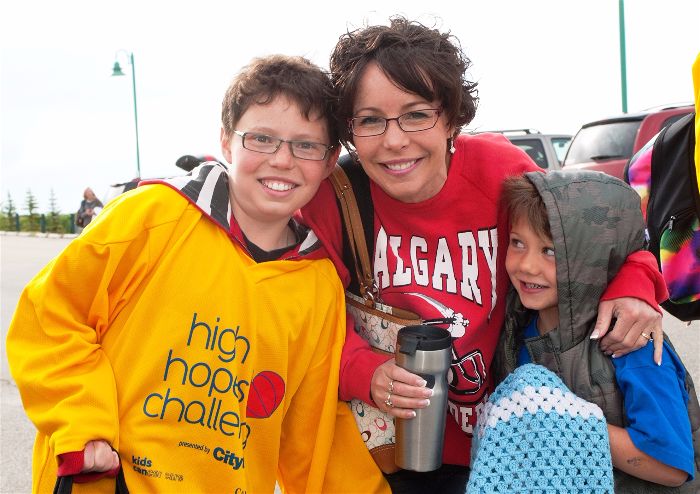 Our journey with cancer began long before we ever realized we were on it. For about a year before his diagnosis, our son Joel, who was just nine at the time, started having dizzy spells, severe migraines and frequent vomiting. We were perplexed and thought it may have something to do his balance or his vision or spinal alignment. Then, one day I noticed he was watching TV with one eye closed. I asked him why he was doing that and he said, "It's the only way I can see without having double vision." I was shocked. We had been back and forth to different doctors, but this was when we really got serious and had a detailed assessment.
Three days after his 10th birthday, Joel was diagnosed with medulablastoma, a type of brain cancer. It was the darkest day of our lives and the first time Joel ever his father cry. The mass was the size of a kiwi fruit, but the good news was that it was a solid tumour and it was operable.
Now we knew we were in for a long journey, but we had no idea of the magnitude. We thought a cancer diagnosis meant surgery, chemo and/or radiation treatment. After that, you are either a survivor or you are not. We soon found out that's really just scratching the surface of the whole cancer journey.
They removed the tumour on March 19th, 2009. The scariest part for Joel was waking up after the surgery and not being able to move, talk, eat or go to the bathroom. He also experienced a condition called cerebelar mutism, where he was unable to speak for three weeks. Joel also had partial paralysis on his right side and would spend hours staring at the ceiling.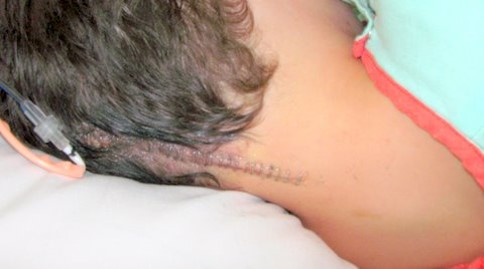 Because of the nature of his cancer, Joel had to undergo a stem cell transplant. During transplant, a patient receives severely high levels chemotherapy and radiation to wipe out their white blood cells, so they can replace them with new healthy blood cells. Sometimes in a stem cell transplant, the patient ends up being their own donor, which was the case for Joel.
Prior to chemotherapy, the medical team at the Alberta Children's Hospital harvested 350 million stem cells from Joel and collected them into four bags. The hardest part for Joel was lying perfectly still for two whole days while this took place. He had to be still for 48 hours straight! His body would become numb from lying still. This earned Joel the nickname the Polish Prince at the hospital, because of our polish background, but also, as the nurses said, he had already acquired complete self-mastery at the age of 10. After harvesting the stem cells, they froze them, so they could later re-inject them into Joel after each of round of chemo.
During his radiation treatments, Joel had to wear a plastic mask that was formed to fit perfectly over his face. He had to keep his head perfectly still so the radiation rays would target only specific areas of Joel's brain and not damage healthy tissue. In order to do this, the mask had to be screwed down to the table. Joel had to really concentrate, so he wouldn't throw up. They placed marks all over his body (with a sharpie!) so they wouldn't need to realign him each visit. Joel younger brother Eric used to ask him to put tattoos all over his arms, because he wanted to be marked up like his big brother.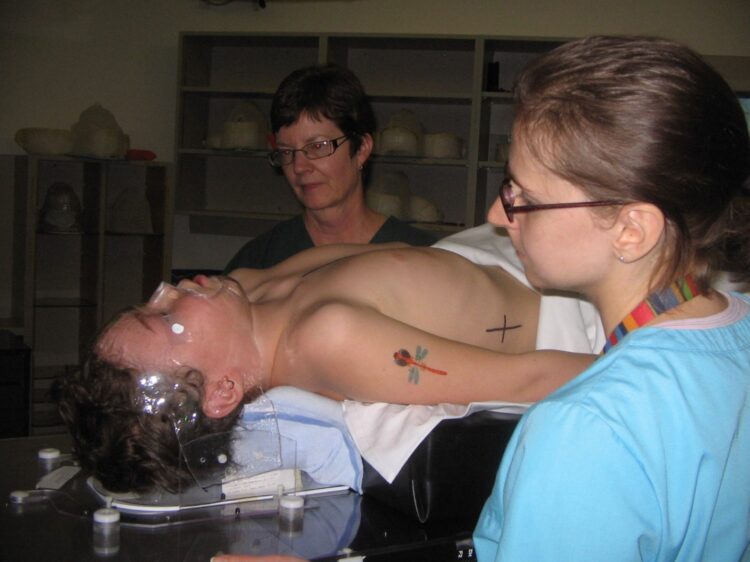 Since Joel's first diagnosis, Kids Cancer Care reached out and embraced our family. Joel and Eric participated in the many activities they offered and spent a week every summer at Camp Kindle. It has a pool, high ropes, a climbing wall and other fun stuff for cancer kids and their families to just get away. Being there showed Joel he was not alone. The kids shared experiences and talked about what they had been through. They developed a unique bond with one another.
Kids Cancer Care also funds a project called the Beads of Courage. It's a string that you add beads to each time there is a medical event, a kind gesture, a special activity or when you reach a milestone on your cancer journey. For example, the blue ones represent physical, speech or occupational therapy, the pink ones are chemo, but the most interesting are the beads that represent a radiation treatment. They are the ones that glow in the dark! It's a simple thing, but was very healing for Joel to do.
In November 2009, Joel celebrated what we believed would be the last of his cancer treatments. He's actually skinnier than his skinny cousin! But he was cancer-free for the first time in years.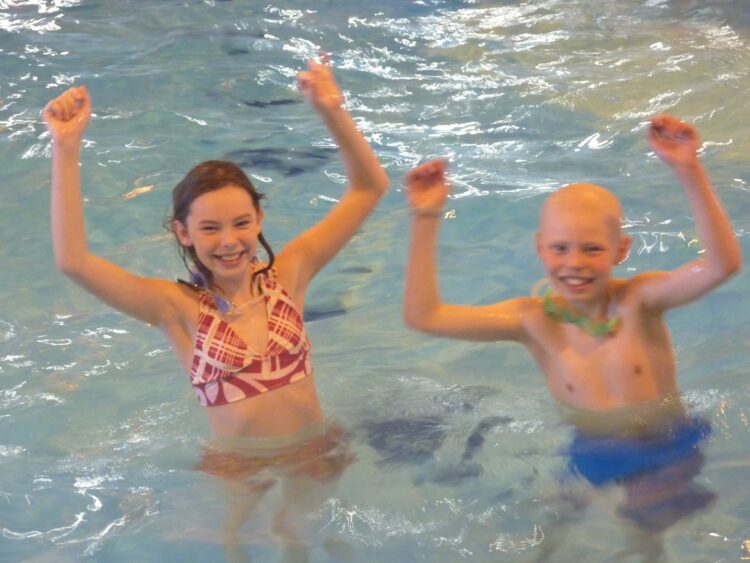 In November, 2011 Joel reached another milestone. He was two years cancer- free and considered cured. Joel was on growth hormone therapy, had decreased lung capacity, reduced muscle strength and extremely brittle bones, but he was doing well. He was cancer-free. He was excelling at school. He had returned to hockey and was playing with the Bow Valley Fiddlers again.
Joel remained cancer-free for five years when a routine MRI scan revealed tumours in his spine. Joel started back on treatment. But this time, the doctors told us there was nothing more they could do. Joel passed away on October 3, 2015 at the age of 16.
Three days before passing away, Joel insisted on going shopping to buy his mother a birthday gift. By this time, he was in a wheelchair. Before they entered each store, Joel would muster all his energy to pull himself out of his wheelchair, hook arms with his mom and browse with her, laughing and joking together. Joel found the perfect gift for his mother, but it was the last gift he would ever buy.
Among Joel's many passions was golf. About three weeks before he passed away, our family went golfing in Kananaskis. It was a bitterly cold day. It was raining and blowing so hard the rain was coming down sideways. Joel was fatigued and cold, but he was determined to enjoy himself.
By this time, Joel was 90 per cent numb from the waist down. We had purchased walking poles to help him walk and for balance. Instead of being embarrassed, he was quite proud of his poles and covered them with bright neon stickers.
Secretly, the rest of the group wanted to pack up and go home, but after a quick break in the clubhouse, Joel had bounced back. Smiling from ear to ear, he said: "Mom, I've had a snack and warmed up. Now I have a second wind. Uncle Richard got a handicap flag for the golf cart, so we can drive right up to the golf ball."
After a brief pause, Joel fired up, "Well, what are we standing around for? Let's go!"
Although it has been so challenging. The experience has forced us to open up and share our burdens with others. We have had an incredible community of family and friends supporting us every step of the way. What kept Joel going the whole time was remembering all the people who love him. Kids Cancer Care showed us we are not alone and played a huge role in helping Joel to have fun, fulfill his potential and maintain a positive attitude right up until the end.
– Ed and Dale Zukowski, Joel's parents
New insights into medullablastoma
Not long ago, Joel's treatment was considered radical by most Canadian oncologists. Today, it is considered the most effective and safest treatment for medulloblastoma, curing 80 per cent of children diagnosed with it. Calgary cancer scientists are discovering that medulloblastoma is not really one entity. There seems to be subtypes of medulloblastoma that behave differently from each other and are therefore more or less sensitive to certain treatments. This is explains why reaching 100 per cent cure rate for medullablastoma has been elusive. University of Calgary scientists are creating models of medulloblastoma and other brain tumours, so they can study the diseases and the effects of drugs on them before introducing them to children. Working with these models, medical teams hope to test and safely introduce promising new drugs to kids like Joel whose frontline therapy has failed. New research is vital for children with refractory and relapsed cancers, please support pediatric cancer research.  Click here to donate now.