He is a survivor: Colby's Journey
Colby was the sweetest (and busiest!) little one-year-old boy, who was into all things sports. Anything that was motor skills related, he would pick up on very quickly. He was fully crawling by the time he was six months old, walking a couple days after he was 10 months old and was obsessed with hockey by the time he was 18 months old. Colby was such a healthy and active little boy, who only ever needed to go to the doctors for check-ups and immunizations. However, after he turned 18 months, he started having a lot of trouble sleeping, became easily irritated and lost his appetite. Despite being a bit off, he still had a considerable amount of energy. We didn't think anything of it at the time because he was also getting his molars and we figured it might just be one of those phases that kids go through.
Near the end of February 2014, when Colby was 20 months old, he caught a cold. He had a runny nose, low-grade fever, was super irritable and hadn't had a full night sleep in days. Again, we didn't think much of it. All the other kids in the day home had colds too (which was not shocking considering it was the middle of winter). After picking Colby up from his day home on Thursday, February 20th, our day home provider had pointed out some spots along Colby's arm. These spots were unlike any rash we had seen before. The rash was not raised to touch, didn't look irritable and Colby didn't seem bothered. We decided to take him to a walk-in clinic that night just to have him checked out. After the assessment, the doctor figured perhaps it was a cold and sometimes these viruses can display different symptoms, especially in kids. The doctor told us to monitor these spots and if he still had them the following week, we should come back and he would take another look. Off we went. Over that weekend, the spots spread over to his other arm and his legs – but nowhere else on his body. It was definitely weird for us. That Monday, we took Colby in to the same clinic. We visited with a second doctor who had a similar reaction as the first. Deep down we knew something just didn't seem right with our little boy.
This brings us to Tuesday, February 25th, 2014. After a long night of crying and failed attempts to comfort an irritable little boy, Colby woke up with a large mass of these spots on his cheek. We were shocked, but we were trying to comfort ourselves because we had just taken him to the doctor the night before. Perhaps it was just a virus. We made an appointment with our family doctor for 10:30 am and were hoping she might have some answers for us, however; she also seemed at a loss. She sent us to the Alberta Children's Hospital for blood work knowing that we needed to figure this out and that they would be great with someone Colby's age.
At 1:30 pm, we were back at home and Colby was napping when the phone rang. We were surprised to learn that it was our doctor's office, as we hadn't expected them to call us until at least the next day. My husband was standing beside me, while I talked to the doctor. "Stacey, I have Colby's blood results back already. Can you tell me, where is Colby right now and is anyone with you?" I responded by letting her know Colby was napping and that Curt was home. "Stacey", she said, "You need to head back to the Alberta Children's Hospital right away and I think it would be best if you packed a bag as you could potentially be staying overnight. Colby's blood counts are extremely low. I'm going to send them these results right now and they know you will be coming there soon."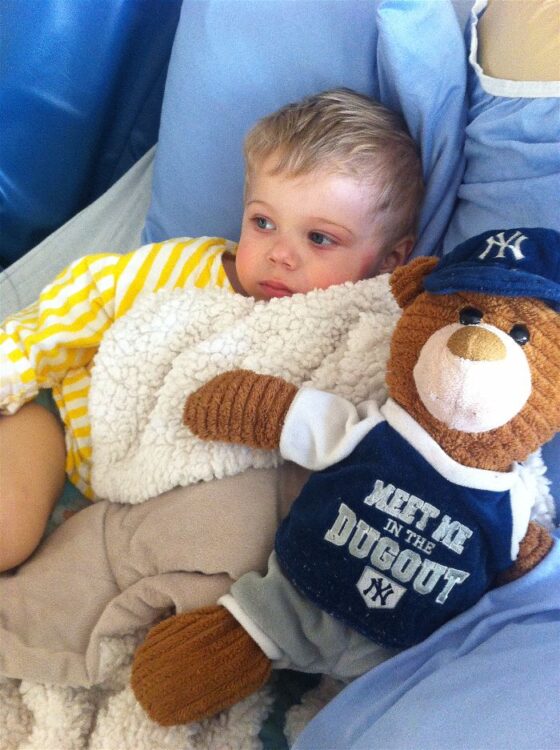 Not knowing exactly what those blood counts actually meant, we frantically packed a bag, woke Colby up from his nap and drove to the Alberta Children's Hospital emergency centre. When we got to emergency, there was a long line of families waiting to get in, but when I let the admitting clerk know who we were and showed her the blood counts, we were instantly taken to a room and my mom instinct went off again: "This must be super serious for us to by-pass all those sick families in that waiting room." Within minutes, we had two nurses come in to assess Colby and we thought it was strange how they were both fully gowned up (masks and all) when they came in. Soon after, the emergency doctor came in and started talking to us about what the low counts meant for Colby. Hemoglobin is your oxygen providers; it gives our body energy. Platelets are the clotting agents; they prevent the body from bruising and bleeding. White blood counts are what defend us against virus and germs. They keep the body healthy. As he was describing these functions, Colby was running around the room like a normal healthy child. The Doctor said, "If Colby was a teenager or adult with that low of a hemoglobin count, he would have no energy to even get out of bed. It's interesting to see him have all this energy." While this doctor was really kind – he never did give us any indication of what might be wrong with Colby. The doctor left saying that someone else would be coming to visit us shortly. We both knew that the next visit would be challenging.
Our next visitor walked in and introduced herself as an oncologist. Our hearts shattered when she said that. The only reason a cancer doctor would be here is to tell us every parent's worst nightmare. She calmly told us that she had just looked at Colby's blood work and that she was devastated to tell us that Colby had leukemia. Our whole world seemed broken in that moment. Up until that point, my husband and I had kept it together, because as scary as everything was, nobody had told us anything as to what it might be, but as soon as we heard those words, it was real. It was serious. It was scary. It was happening to our little boy.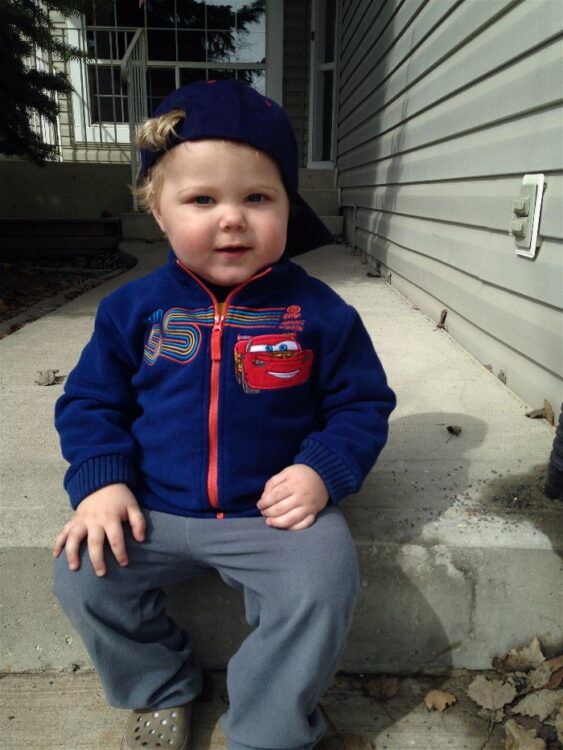 Leukemia – cancer of the blood. This is the reason why Colby's white blood count was so much higher than his hemoglobin and his platelets. These abnormal white cells were crowding Colby's bone marrow and preventing his body from producing other cell types. Those weird spots were actually petechia – a reddish spot on the surface of the skin as a result of tiny hemorrhages of blood vessels.
Things started to happen extremely fast over the next few days at the hospital. That evening, Colby was admitted to Unit One at the Alberta Children's Hospital and required two blood transfusions and platelets. The next day, they performed a bone marrow aspiration (BMA) and, by 5:00 pm that evening, they confirmed that Colby had pre-B acute lymphoblastic leukemia. On Thursday, Colby had surgery to put in an IVAD (implanted vascular access device). By Friday, February 28, 2014, Colby had received his first treatment of chemotherapy.
Colby was still admitted the following week and that's when we had our first encounter with Kids Cancer Care. It was a Wednesday night – Pizza Night. For the first time since we were admitted, we left our room and wandered down the hall to where they host Pizza Night and we were introduced to the lovely Kids Cancer Care volunteers. The volunteers provided us with some reassuring smiles, some warm and comforting hugs and, of course, some delicious pizza. Pizza probably doesn't seem like a very big deal to most, but for us, it was the first opportunity to interact with others on the unit. A lot of the children on the unit are in isolation, so there is often very limited interaction between families, as they are in the rooms caring for their children. Colby hadn't been eating much since he started undergoing everything, so to see him devour the pizza was a warm and welcome relief for everyone.
The treatment for leukemia is long. Over three years. Three years was more than a lifetime to Colby. The most intense part of that treatment occurs over four different phases.
The first phase of treatment (Induction) was one of the most difficult. The chemotherapy started to kick in and Colby also needed to take a steroid for 29 straight days. The steroid had such awful side effects, including difficulty sleeping, severe mood changes, muscle weakness and an increase in appetite. While on the steroids, Colby ended up gaining over 30 per cent of his body weight and could barely walk by the end of the dosage. After the first phase was complete, it was determined that Colby had now fallen into a high-risk group based on the number of residual cells that were remaining, when they performed another BMA on day eight. As a result, he was now going to receive high-dose chemotherapy protocols for the remainder of his journey.
The phases of treatment and months that followed were by far some of the most difficult experiences we could have imagined. Each phase of treatment introduced new chemotherapies, which all had their own laundry list of potential side effects, some short-term and some that could extend into adulthood. Our new normal revolved around blood counts, chemotherapy and intrathecal chemotherapy (given through lumbar punctures), extended hospital stays, clinic appointments, blood and platelet transfusions, nausea and isolation. Quite often, Colby's white blood cell count was so low that he was considered neutropenic, meaning that he had next to nothing for an immune system. As a result, we were isolated from the general public and had limited interaction with others for months, as we tried to ensure that our house remained a sterile and safe haven for us as we lived in fear of getting sick and putting Colby at risk.
In September 2014, our life got even more hectic as we welcomed our second son (Benson) into the world. We had just found out were expecting two weeks before Colby was diagnosed. This was particularly challenging as Colby was also undergoing the most intense phase of treatment (delayed intensification). This particular phase required daily clinical chemo appointments and even more blood transfusions. Overall, Colby was at his weakest and seemed to be in the most pain during this phase. It was as if that final phase of treatment was going to shut down his body with the hope that when it started back up afterwards, it would be fresh and healthy.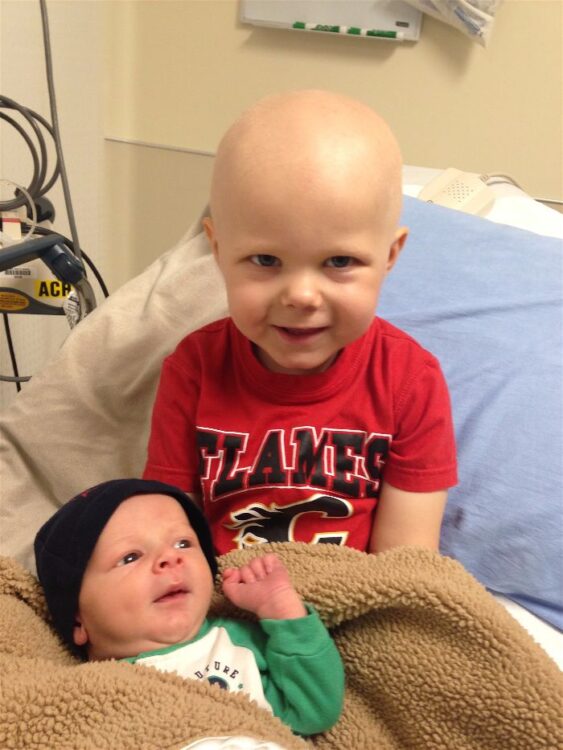 Finally, in early November 2014, Colby had been given the okay to start the final phase of treatment, called maintenance, which was scheduled to last until June 2017. For three years, Colby was going to require IVAD chemotherapy and steroids every four weeks in addition to lumbar punctures for intrathecal chemotherapy every three months and daily oral chemotherapy (two doses on Mondays) that needed to be administered from home. During this phase, the goal was to eliminate the potential of any additional cancer cells. The dosage of chemotherapy was always a delicate balance as they tried to ensure that his white blood cells were not too high or too low to optimize the best dosage to be effective, while still allowing Colby the ability to fight off infection.
With a newborn and an immunosuppressed toddler, we continued to be fearful of public outings, because every time Colby had a fever, it was a frantic rush back to the Alberta Children's Hospital. The possibility of being admitted would be even more difficult as we tried to figure out the care for both children. We discovered Jamie's Preschool, which is truly a wonderful place that provides a safe environment for children like Colby to attend, so they can socialize and play with children their age. It was our saving grace at the time, as it helped us start feeling more comfortable leaving the house. It was through Jamie's Preschool that I met other cancer moms who talked to us about the programs Kids Cancer Care offers and how the foundation provided them with so much support and created such a strong community for our families.
As Colby continued to stabilize and we settled into our new routines that were a part of maintenance, Kids Cancer Care provided us with opportunities to have quality experiences again and forget for a while the challenges that Colby was experiencing. Our first interaction was an invitation to the Calgary Hitmen game in a private box. It was so uplifting to see him smiling and be excited. The game was a great distraction from the harsh reality we had been living for almost a year now.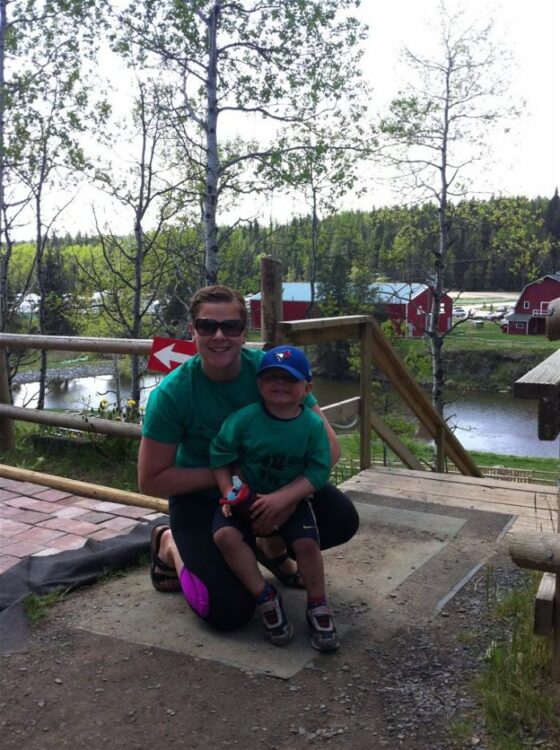 From that first hockey game, we became active members of Kids Cancer Care programs. Our first visit and introduction to Camp Kindle was that spring for Mother's Day Brunch, which was a beautiful way for us to spend the day as a family. We also attended Family Camp that year, which provided an incredible and much-needed weekend retreat. That summer, Colby attended a special day at WinSport with Kids Cancer Care, where he got to experience a variety of different activities. But his favourite program that summer was definitely Kids Cancer Care's SunRise day camps. It was the first time since Colby had been diagnosed that we left him in the care of someone else who wasn't immediate family. We knew that he was in the amazing care of Kids Cancer Care's staff and volunteers. He had the best time at camp and it was so heartwarming to see a child, who had been through so much, enjoy life again. The programs that Kids Cancer Care offers are such an incredible distraction during difficult journeys that allow these children who have dealt with so much to have experiences they miss out on while in treatment or as a result of treatment.
We often used pictures from Kids Cancer Care events or activities that Colby had attended to distract him while he was in clinic or whenever he was admitted. Being immunosuppressed for as long as Colby was made him susceptible to getting sick. Common childhood viruses like hand, foot and mouth disease were so extreme for Colby that he ended up on pain medications to help get him through it because he didn't have the immune system to fight it off properly. Additionally, he often experienced a ton of aching and pain in his legs and joints – especially after his IV chemo appointments and the five-day steroid pulses. Despite all the pain, Colby still had a passion for being active and all things sports, so when he had his bad days and he was struggling to walk and get around, it was really tough to watch and imagine how it might get better. Luckily for us, and Colby, Kids Cancer Care offers a PEER program (Pediatric cancer patients and survivors Engaging in Exercise for Recovery) that encourages children to keep moving and stay active through sports, games and other fun activities.
This past June was finally the milestone we had been waiting for since Colby was first diagnosed. On June 12th, 2017, Colby was officially done treatment. It was a day of overwhelming emotions and anticipation. Our brave warrior was done after three long years. We celebrated with family and friends who were all there for us throughout the entire journey. It truly takes a large network and support system to help these children fight these battles and Kids Cancer Care was a huge part of that support system for us. Children can't do it alone, and neither could we. It was an emotional and painful journey, but at that same time, it was also inspiring. Children truly are resilient and determined. As hard as this whole journey was, Colby still would find the strength to smile, laugh, be silly and inspire us to stay strong and work together as a team.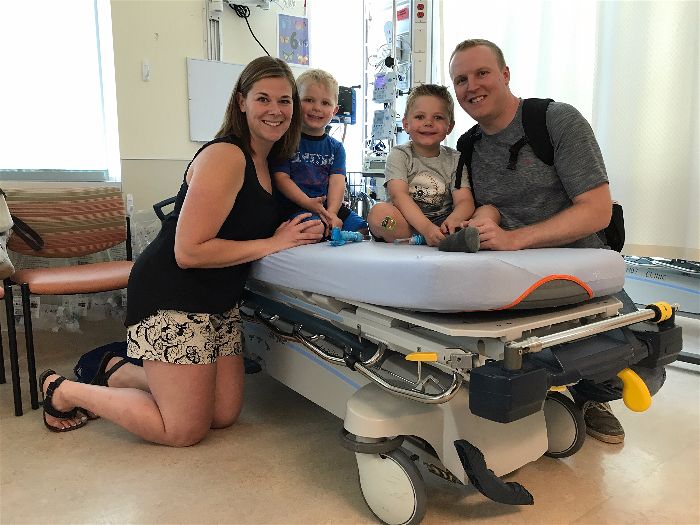 Colby's been off treatment now for almost three months and we are now adapting to this new phase. Like each phase of treatment, this too brings a wave of emotion that is beyond measure. It's so relieving to know that he is done and that we can finally have a healthy kid again, but at the same time, there is so much fear that comes along. We can only hope that everything he has gone through over the past few years is enough to keep him from relapsing. It's an adjustment going from daily, weekly or monthly blood work to now only getting it done every two months. The reality is, Colby had been on treatment for longer than his life span. We really forgot what it was like to have him be healthy and 'normal'.
This fall, Colby will get to attend kindergarten and he is so excited. Colby is also registered to play hockey and is already practicing his slap shot down in our basement. He continues to look forward to programs that Kids Cancer Care provides so that he can see his friends – and his fellow warriors. He's happier, healthier and more energetic than we ever remember him being. He is currently feeling great and we are thankful to everyone who was part of this journey – Colby's oncologist, the nurses and support staff at the Alberta Children's Hospital, our strong family, our incredible network of friends, the amazing people at Jamie's Preschool and the wonderful employees and volunteers at Kids Cancer Care. The fears, the side-effects, the emotions and the struggles are forever and are always going to be part of Colby's life, but this journey is also going to shape him into a remarkable young man, who is stronger and braver than his years. He was a fighter and now he is a survivor.
– Stacey & Curtis Kucharuk, Colby's mom & dad
Give blood in honour of Colby
Kids Cancer Care has partnered with Canadian Blood Services for Childhood Cancer Awareness Month. Colby received lifesaving blood and platelet donations during his treatment thanks to giving people like you. Book your blood donation appointment in honour of Colby today. Please contact the Lifebus/Group appointment coordinator at 403-410-2722 or via email.