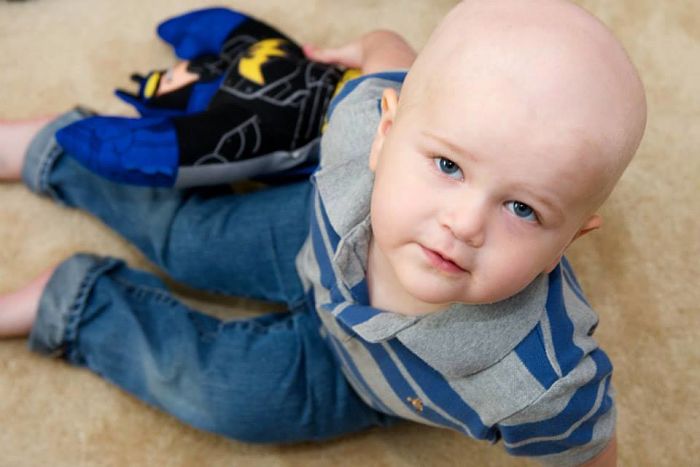 The Force Is Strong With This One: Marshall's Journey
In December 2013, my son Marshall was just about two when he came down with a cold that just wouldn't go away. Then one day in early January, he went down for a nap and woke up with a red eye. I wasn't sure what it was, so I called Health Link. They said to monitor him and if it got worse to take him to a walk-in clinic. Well, sure enough, it got worse. After our visit to the walk-in, we were sent to Alberta Children's Hospital for further investigation.
It wasn't long before Marshall was being held down to find a vein for a round of antibiotics. He was not even two, so holding him down was not easy. He looked so tiny to me. After a round of antibiotics, we were sent home and told to come back in 12 hours if it got worse.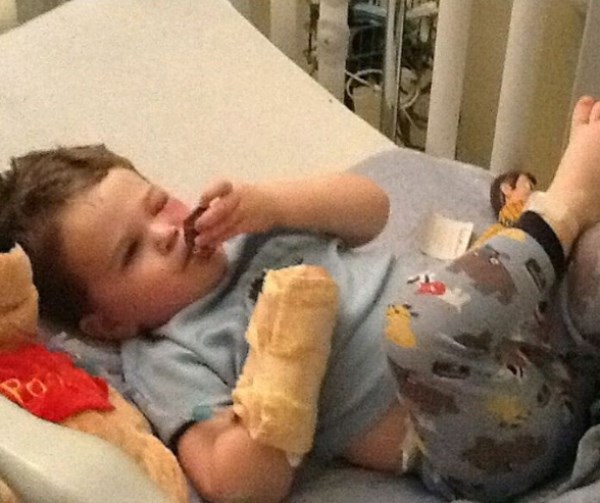 Twelve hours later his eye was swollen shut. Back at the Children's, they ordered a CT-Scan. Marshall was diagnosed with an infection in his eye and admitted. He was constantly monitored, had a ton of blood work, and was sent home after five days with an oral antibiotic.
After a full week of being stuck in a crib with his swollen eye and antibiotics, he wasn't walking much. He was still so young, so I thought he'd just need some time to get back to his old self. When he tried to walk after a week, he would scream in pain. It was awful. At one point he fell on his bum. I expected him to cry a little and get back up, like a normal toddler. But instead, he was in agony, rolling around on the floor. We went back to see the infectious disease team, as I knew something was still very wrong with our little boy.
Thus began many appointments. We saw a neurologist and many other doctors. They thought maybe his infection had travelled from his eye to his hips. In mid-February, we were referred to the Pediatric Rheumatology Clinic. Marshall got another CBC (complete blood count) and sent for an ultrasound. That day, after that appointment, I dropped him off at his day-home and went to work. The doctor called and said his potassium was high and we needed to bring him back right away. He was at risk of going into shock. When we arrived back at the hospital, we were admitted right away. A biopsy was ordered for the next day. We were told it could be cancer. It was a Thursday. More dire cases came in, so we got bumped. Poor Marshall had fasted and because of his potassium, he swelled up. It was so hard to see him like that. Little did we know what was to come.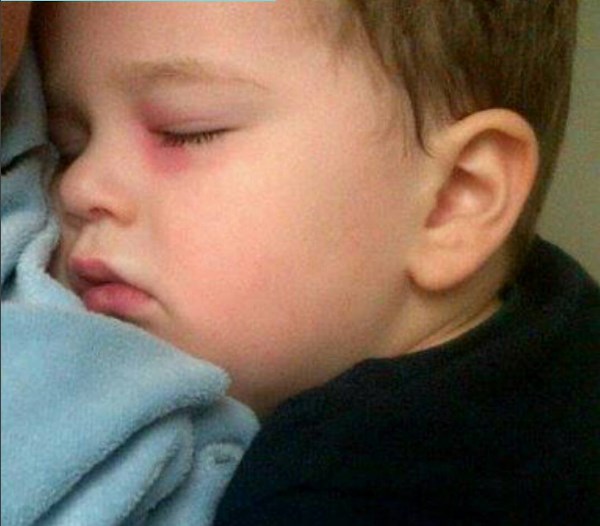 On Friday, Marshall was bumped again. Saturday…Sunday…and Monday he was bumped again. Usually I'm a pretty calm and understanding person, but at this point I was losing it.
Finally on Tuesday, he went in for a biopsy. We were told it was leukemia. It was so hard to hear, but finally we had some answers. The oncologist was awesome. He explained why the leukemia was impairing his ability to walk. Because it was a blood cancer, it was affecting his bone marrow and causing pain.
At that point, we were moved to the oncology ward, Unit 1. This is where we had our first introduction to the fantastic people of Kids Cancer Care. We were right in the middle of what I call "The Zombie Phase" of childhood cancer for parents. Everything was a fog. We felt so alone – no one we knew had any experience with childhood cancer. Then a Kids Cancer Care volunteer appeared at our door and said "It's Pizza Night." Marshall was in isolation, so I went down to the Sunshine Room and there was all this pizza. The volunteers explained that they would be there every Wednesday with pizza and someone to talk to. It felt so amazing to be welcomed into that group of people.
We were there for a month as they tried to figure out Marshall's potassium levels. Marshall had developed a respiratory virus and had a pic line put in. It was so scary for him to see this tube hanging out of his arm. A volunteer at the Children's gave us a little sleeve to put over it and hide it. It was like a security blanket, while he had the tube for the first month. He still has it. He also had an IVAD port put in to administer his treatments.
That whole first year was a fog. And even when we hit the maintenance period, as much as everyone says "you are in the home stretch," it was hard. Marshall had oral chemo every day and went in once a month for an IV of chemo. He also received steroids once a month for five days. It was really tough on his little body. It was such a vicious cycle. The steroids would kick in, then it would take two weeks for him to come off the effects of the steroids. So we'd basically get our son back for a week, then it would be back on steroids. The steroids made him so hungry, and he'd have to fast to get chemo in his spine. That really sucked. There's no other way to say it.
Marshall's older sister Kendal had already started kindergarten at that time. Having a big sister, who goes to school every day, meant she was always coming home with coughs and colds. It was so hard isolating them from each other. As parents, it was a constant internal battle. Do we send her to school and risk her spreading her cold around school, or do we keep her at home with our immune suppressed son?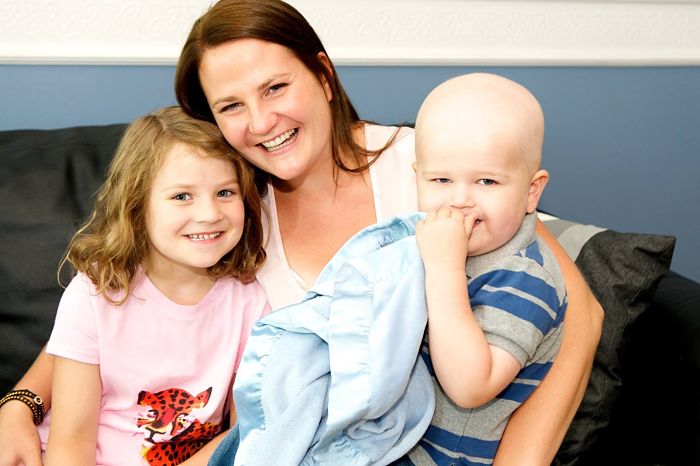 Childhood cancer is hard on all members of the family. Kendal was just five when her brother was diagnosed. It was an especially scary and sad time for her. She was home with Dad and I was at the hospital with Marshall. It was hard to feel so disconnected as a family.
I am so glad that Kids Cancer Care programs are open to siblings too. Camp especially has been amazing for Kendal. Both Kendal and Marshall attended SunRise day camps that first summer. But last year, Kendal went on her first week-long sleep over camp at Camp Kindle. I was so nervous, but she came back a brand new kid. She seemed taller and older when I picked her up. She had a new independence about her. She still talks about her new friends, the camp volunteers and the fresh waffles every morning. She said to me "Mom, I didn't miss the iPad or TV. I learnt to swim!" It meant the world to me that she could go and have a week of fun and leave all the troubles of having a brother with cancer at home. She's so excited to go back this summer.
Marshall has done so well at SunRise over the past few years. One year, they were able to do a one-night sleepover at Camp Kindle. Fortunately, we'd all been to the Mother's Day Brunch through Kids Cancer Care's outreach program, so I knew they were going somewhere where they could administer his chemo and that trained nurses would be there if anything went wrong. The fact that they have the ReKindle Clinic on site – I knew Marshall would be safe. And best of all, he got to be a normal kid and have fun.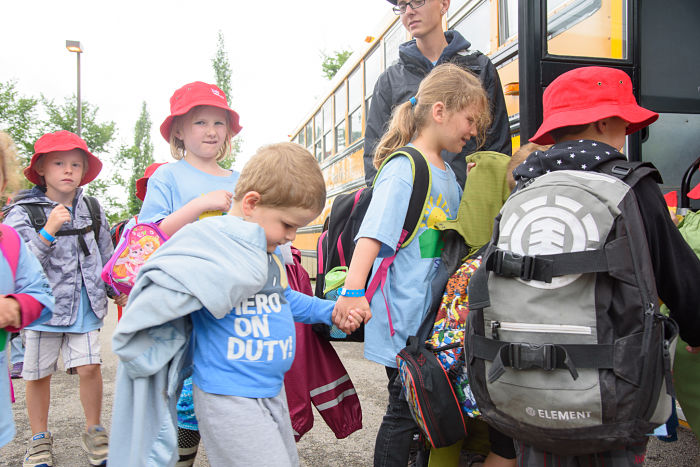 Something surreal happens when your child has cancer. They mature and have resiliency in ways you're oblivious to pre-diagnosis. Sam, one of the SunRise coordinators, is a survivor of childhood cancer. Marshall came home one day and said "Mom, do you know why Penguin has one leg?" (I should mention Sam's camp name is 'Penguin.') He continued, "It's because she had cancer in her leg. I don't have cancer in my leg. I have it in my blood." It was so powerful for him to connect with someone and understand that he isn't alone. It's unreal to watch kids on treatment pull up their shirts to show each other their ports. And to see other kids with no hair has been so important for Marshall's confidence.
There's so much more to Kids Cancer Care than just camp. We've been to Hitmen games as a family and to Parent Programs, where we can build relationships with other parents, who get what we're going through. When you are on treatment, you are so concerned about taking your child anywhere – to playdates, the movies and activities – in case they are exposed to germs. But when you get the email from Kids Cancer Care that says, "Please come to our Halloween Party," you know that they will make sure everyone is cold- and flu-free and that your child will be safe and protected.
The PEER program has also been a large part of our journey. It's an exercise program to help kids regain their strength during and after treatment. As soon as Marshall sees the gym, he lights up. The volunteers and staff are so welcoming. Everyone at Kids Cancer Care has become such a huge part of our journey.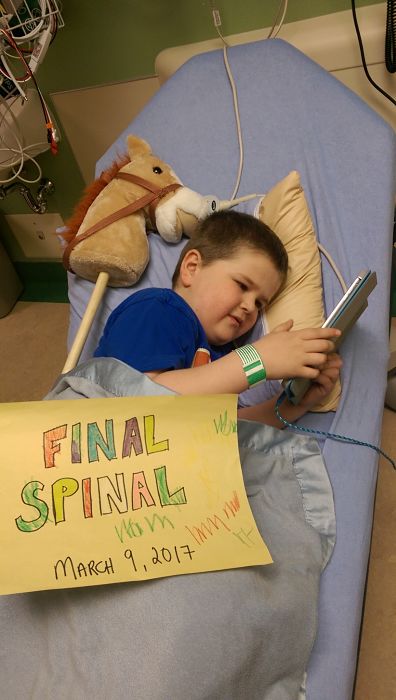 Treatment wrapped up just a couple weeks ago, on May the 4th. It was so fitting, as Marshall is a big Star Wars fan and May 4th is Star Wars Day: May the Fourth Be With You.  For his last day of chemo, he had gathered a ton of toys and goodies to put in the Treasure Box at the hospital that kids get to pick from after a treatment. In April, he had noticed the items getting low and suggested we fill it up for his last chemo. I continue to be overwhelmed and amazed by the spirit of my son. He also walked around and handed out cupcakes to everyone. We have seen so many kids on their last day of treatment, it was almost surreal knowing it was finally our turn.
Saturday May 27th, 2017 is a special day for all of us. Our family and friends are going to celebrate Marshall with a special party. But we also wanted to thank all the people who have stuck by us during this journey. A bunch of our friends gathered some items to raffle or auction off and wanted to make the event a fundraiser for our family. But we decided to make the event a fundraiser for Kids Cancer Care and the other organizations that have supported our family on this journey.
We know we will be looking to Kids Cancer Care for years to come – with possible tutoring, rehabilitation through PEER, camp and outreach programs and one day, a Derek Wandzura Memorial Scholarship for Marshall to pursue his dreams. There's nothing I want more than my kids to become volunteers at camp so they can be there for kids affected by this disease in the future.
People often ask us: "Now that treatment is coming to an end, do you still get to go to camp?" We answer, "Of course! We will always be a part of the Kids Cancer Care family!" And, I cannot imagine a better family to be a part of. We couldn't have gotten through this without them.
Thank you to all the volunteers, staff and donors. – Joleen Teske