Kids Cancer Care's Hockey Heroes
Hello out there, we're on the air, it's 'Hockey Night' tonight.
Tension grows, the whistle blows, and the puck goes down the ice.
The goalie jumps, and the players bump, and the fans all go insane.
Someone roars, "Bobby Scores!" at the good ol' Hockey Game.
Bobby Orr, Wayne Gretzky, Gordie Howe, Haley Wickenheiser, Jarome Iginla. Idolized by fans, their stats are etched in the minds of those who love the game and their names are stitched across the backs of well-loved jerseys by those who cheer their names.
At Kids Cancer Care, we know of a special kind of hero from the good ol' hockey game – one that makes an impact on AND off the ice. These hockey heroes aren't just players, they are coaches, hockey moms and dads, friends, schoolmates, principals, administrative staff. And they are changing the course of childhood cancer.
Our community hockey partners are exceptional. They raise funds for Camp Kindle, for research, for outreach programs, for hospital programs, scholarships and PlayStations (we'll get to that).
But, we figure the best way to tell you about these hockey legends is to run down the stats for you.
---
Northwest Calgary Athletic Association
Team:           NCAA Midget AAA Flames
City:             Calgary, AB
Motivation:   Friend Joel Zukowski, who lost his battle in 2015
Highlights:
– Teammates shoveled sidewalks, collected bottles, reached out to friends and family to raise money for Kids Cancer Care.
– Many of the players shaved their heads on CTV Morning Live, extending a brave show of support for the children who lose their hair to chemotherapy.
– Raised over $44,000—enough to send 29 children affected by cancer to Camp Kindle.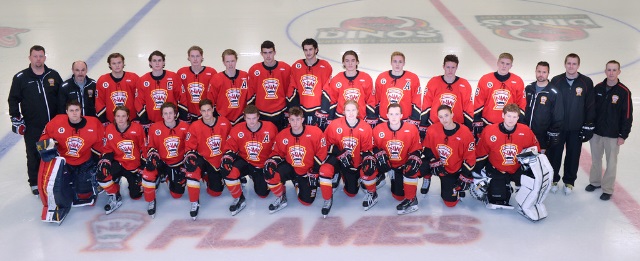 The Hockey Heroes fundraiser in honour of team member Tyler Oakenfold's best friend Joel Zukowski. Joel passed away in October 2015 at the age of 16 after a courageous seven-year battle with brain cancer. He was a quiet, gentle soul who touched countless lives through his kindness and wisdom. Joel and Tyler first met in pre-school at the age of four. The boys shared a love of hockey, playing shinny on the homemade rink in Tyler's backyard.
The 20 players on Tyler's hockey team, the Northwest Calgary Athletic Association Midget AAA Flames, vowed to raise $30,000 to send kids affected by cancer to Kids Cancer Care's Camp Kindle, where Joel had spent much time. They raised $14,000 more than their goal and they are back at it again in 2017. This year, they are hoping to expand the amount of teams and players involved. It all started with the love of the game and a dear friend.
---
Simons Valley Hockey Association
Team:           Simon Valley Storm
City:             Calgary, AB
Motivation:   Player Alec Remenda who lost his battle in 2016
Highlights:
– Alec was a member of the team and the fundraiser was started to show support for his family.  Today, the hockey fundraiser continues in his memory.
– Passionate about hockey and video games, Alec inspired fundraising for new PlayStations for unit one at the hospital, as a distraction for kids during treatment. Thanks to Alec, kids can continue to play their favourite sports virtually, while they are in the hospital.
– In the past two years, this team has raised close to $100,000 for Kids Cancer Care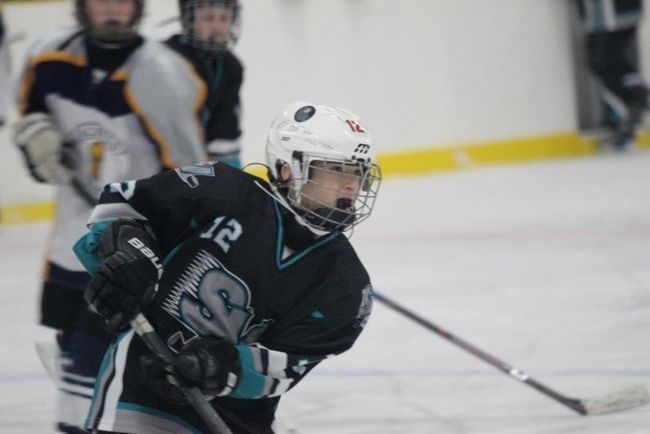 Only days after celebrating his 13th birthday, Alec Remenda was diagnosed with Ewing sarcoma, a rare type of cancer in which rapidly growing tumours are found in the bone or in soft tissue. Alec was known for his love of hockey and he was passionate about playing for the Simon Valley Hockey Association. While his treatment made it so he couldn't play, he remained an important part of his team. That's why they started the Stick It to Cancer charity hockey tournament.
Sadly, after years of extensive chemotherapy and radiation treatment, Alec passed away in July of 2016. His team has vowed to continue fundraising in his honour. This year will be the third annual event.
---
Mac's Midget AAA World Invitational Tournament
Team:           Various teams, volunteers and teen leaders
City:             Calgary, AB
Motivation:   Kids Cancer Care's Teen Leadership Program
Highlights:
– Our name appears on volunteer jerseys, the ice and in the program. A great way to raise awareness about Kids Cancer Care, the tournament draws as many as 100,000 spectators over seven days!
– Kids Cancer Care volunteers and teen leaders sell 50/50 tickets with the proceeds coming back to our programs.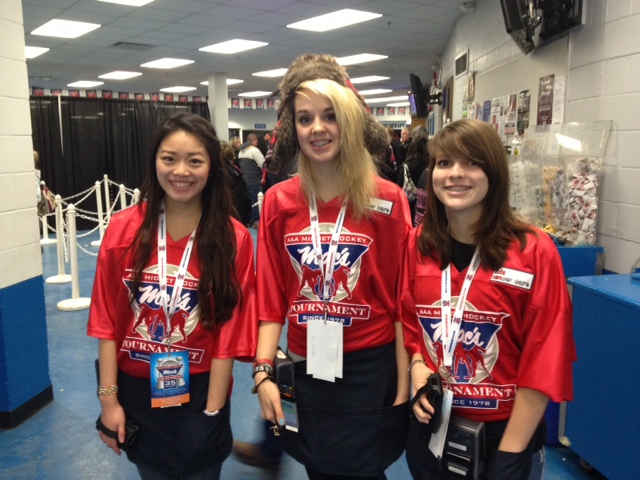 The Mac's Midget AAA World Invitational Tournament is a prestigious ice hockey tournament held annually from December 26 to January 1. The tournament features 25 male and 15 female teams from across North America and Europe. It draws large crowds and raises a ton of money for our Teen Leadership Program, where patients, survivors, siblings and bereaved siblings enjoy opportunities to develop as leaders through self-reflection, peer support, skill building, volunteerism and a service trip.
---
The Calgary Flames Foundation and The Calgary Hitmen Foundation
Teams:           The Calgary Flames and The Calgary Hitmen
City:               Calgary, AB
Motivation:     Kids across the province affected by cancer
Highlights:
– They have given over $1.2 million dollars to Kids Cancer Care, including a sizeable donation to help us realise our dream of owning and operating our own camp.
–  Number 11, Mikael Backlund, is our Flames champion. He picked us as his charity of choice, and invites our families to a game each year and supports us year round.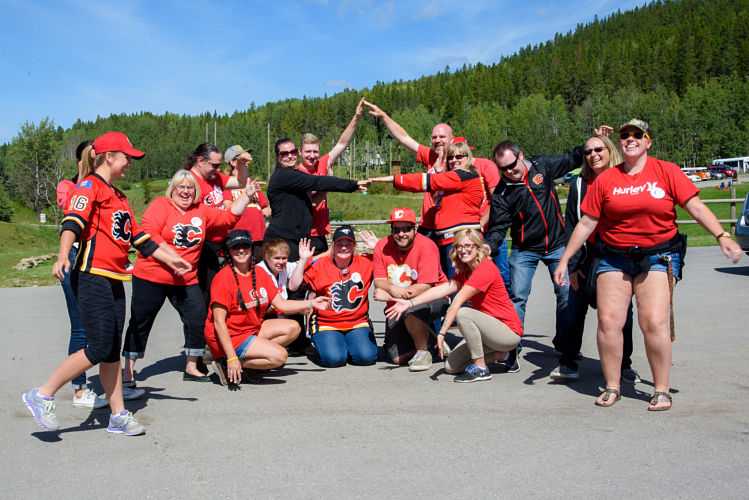 Through annual fundraising events such as the Flames poker and golf tournaments and the Flames 50-50 raffles we thank our supporters. Through annual fundraising events such as the Flames poker and golf tournaments and the Flames 50-50 raffles we thank our supporters.The Calgary Hitmen and Calgary Flames are ideal partners. Not only have they been a part of creating memorable experiences for kids affected by cancer by supporting our programs and camps financially, but they also provide tickets to games, along with meet and greets with the players. These games are a light in an otherwise dark cancer journey.
In 2009, after 20 years of having to beg, borrow and rent space to send children with cancer to camp, Kids Cancer Care purchased its own camp. We called it Camp Kindle because, for hundreds of Alberta children and families facing cancer, it would be a place where childhoods, interrupted by cancer, could be rekindled. We needed funds to purchase the camp and carry out the necessary upgrades and renovations to make it suitable for children with cancer. The Flames Foundation for Life was there for us when we needed their support the most. With a donation of $1,000,000 they helped us fulfill our dream. In July 2012, after undergoing more than $12 million in renovations, Camp Kindle re-opened to Alberta children affected by cancer and their families.
---
From midgets to the pros, Kids Cancer Care is honoured to have such great support from our hockey community in Alberta. And now, supporting us is even easier. We recently launched online Community Fudnraising pages to make your fundraising campaigns even easier. To learn more, click here.
Thank you to all our hockey partners for their dedication to changing the course of childhood cancer.
Oh! The good old hockey game,
Is the best game you can name;
And the best game you can name,
Is the good old Hockey game!