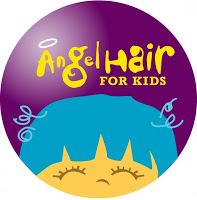 Kids Cancer Care's Shave Your Lid for a Kid program supports the Angle Hair for Kids program. When our shavees and hair donors donate their hair we recommend donating to this amazing foundation. Read below to learn more about the foundation, hair donation and wigs for kids! Please note Kids Cancer Care does not accept hair donations. Please contact or send your hair donation to Angle Hair for Kids.
Every year Canadian children suffer hair loss due to a variety of causes including such things as cancer treatments or burns. In order to help these children build their confidence, a program called Angel Hair for Kids was created.
Angel Hair for Kids is a program that was created by A Child's Voice Foundation, which was founded in 1995. A Child's Voice Foundation is a Canadian charity that helps change the lives of financially disadvantaged children across Canada.  The two main programs that the charity provides are Kids Life Line, and Angel Hair for Kids.Angel Hair for Kids is a particularly unique program because it helps disadvantaged children in Canada that have lost their hair because of medical conditions or treatments, with both wigs and solutions to hair loss. This particular program was created to help improve a child's self-esteem and self-image while the child undergoes difficult and strenuous times.
In order for A Child's Voice Foundation to manufacture one wig, it will take approximately 10 to 12 donated ponytails from people who have generously donated their hair. Kids Cancer Care encourages shavees to donate their hair if it is at least 12 inches in length, clean, dry, and free of chemical treatments to Angel Hair for Kids.
Kids Cancer Care strongly recommends donating your hair to A Child's Voice Foundation because the Angel Hair for Kids program directly benefits children living within Canada. This means, that Kids Cancer Care and A Child's Voice Foundation are keeping the funds raised, and the hair donated, within the country. This allows children within our country to receive the help and support they deserve!

Learn more about Angel Hair for Kids here here 
Learn more about Shave Your Lid for a Kid or register to cut and donate your hair here