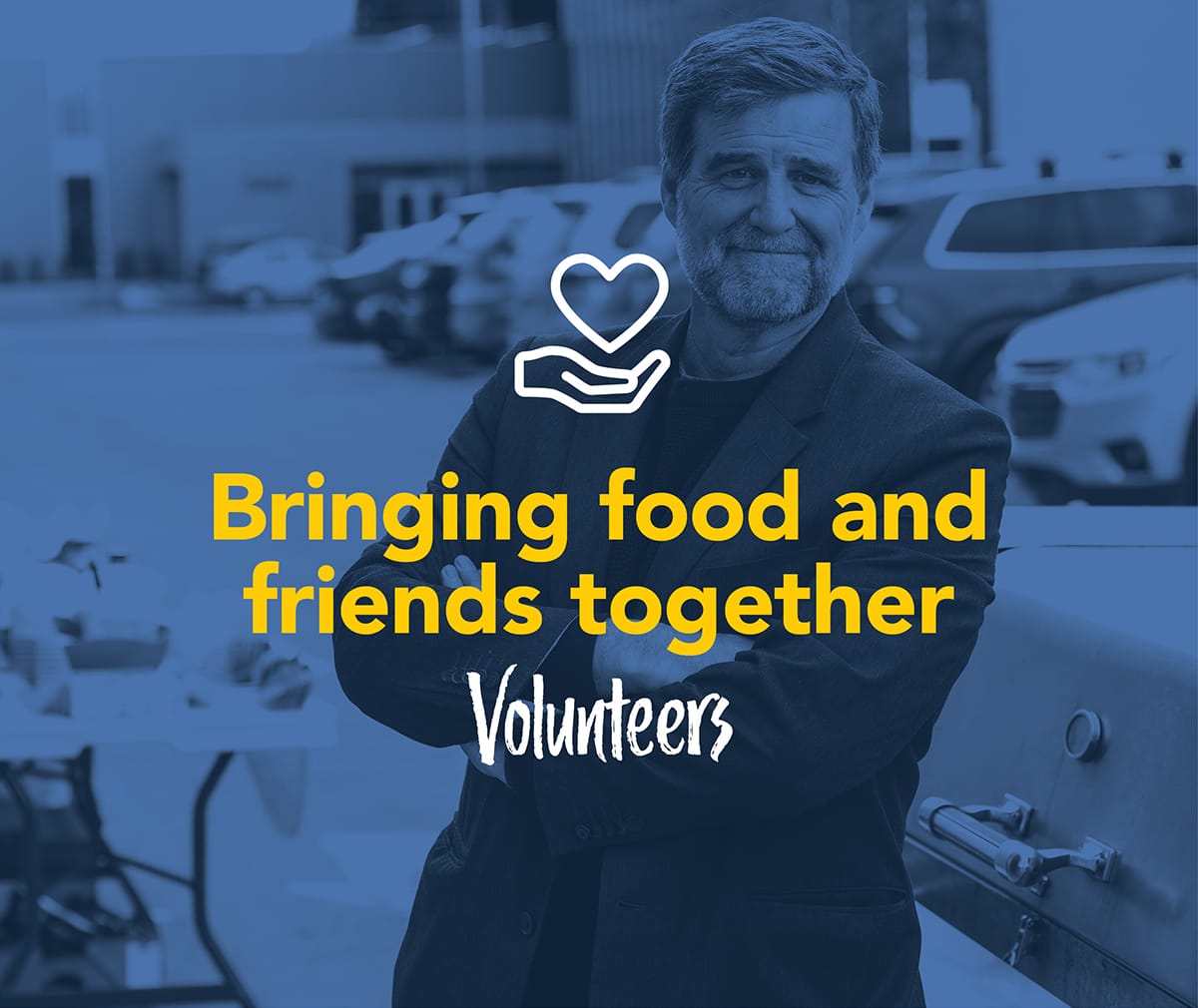 "I want more people to experience Camp Kindle. Not just the barbeque, but to see the impact and how it changes life for the better for so many kids." — Keith Shepherd
There's magic in cooking. As you combine ingredients, experiment with new flavours and share secrets, you bring a meal to life. Food also has the power to heal, to comfort and to nourish.
Keith Shepherd will tell you that cooking is also an expression of love and friendship, a way of bringing people together. And it is. For 20 years, he has been bringing people together at camp with his famous barbeque lunches on Fridays.
"Cooking is a way of bringing people together," he says. "Food makes people happy and it's so satisfying to see someone enjoying a meal, especially a meal you've made."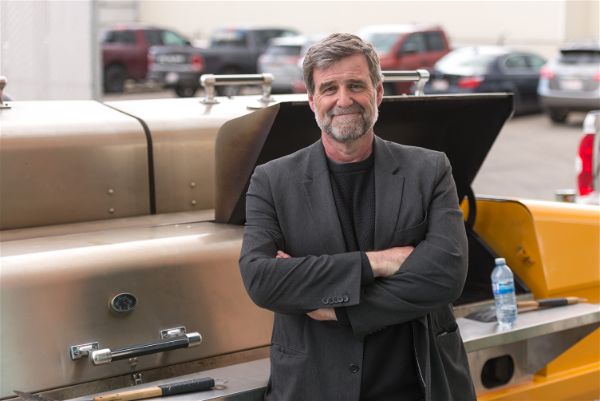 Keith first became involved with Kids Cancer Care in 1999, when a group of retirees from work started volunteering their time to provide BBQ lunches at camp. Keith was still working at the company, so he became the liaison between the retirees and the company. He started coordinating rides and schedules for the retired volunteers and finding sponsors for the food and beverages.
"I remember going to camp the first time," says Keith. "I fell in love with everyone there — the kids, the staff, Christine's story. Christine was so appreciative and grateful."
Over the years, Keith's generosity and role with Kids Cancer Care grew. "When the original volunteers passed away or moved away and there wasn't enough money to cover it, I just kind of took it over and started funding it."
Thanks to Keith and his team of volunteers, the barbeque tradition continues to this day at Camp Kindle. During the summer months, on Friday afternoons, Kids Cancer Care celebrates the end of the camp week with a barbeque lunch. These barbeque lunches don't only fill our bellies. They feed our spirits. And fill our hearts with gratitude. The weekly barbeques provide an opportunity for Kids Cancer Care to get together with our sponsors, donors and community fundraising partners to show our gratitude. They also offer our supporters a chance to meet the kids they are helping and a chance to experience the magic of Camp Kindle firsthand.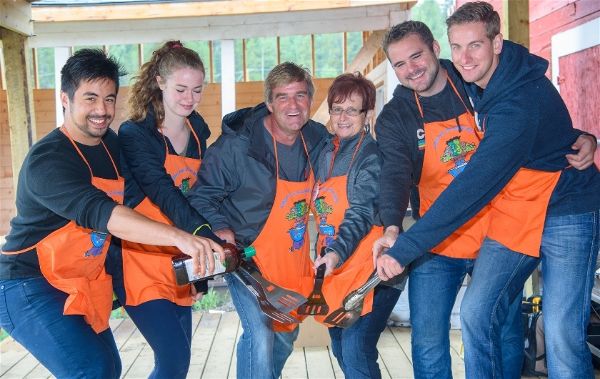 "Coming to camp is like going to a family reunion," says Keith. "When I'm recruiting volunteers to come out to barbeque, I say, 'Please come out to camp. You'll never receive more thank yous than you do at camp. The kids, the counsellors, the staff, the volunteers, everyone is so grateful.' You feel the impact you're making in your heart. I get people lining up to volunteer now. They can't wait. Its three and a half hours of smiles and you can't put a price on a smile. It makes you feel valued and leaves you with that feeling of 'What can I do next?'"
Keith is always looking for new ways to give. Every year, he makes a financial gift to Kids Cancer Care to keep the barbeque lunches going and recently added a provision in his will to cover the cost of the barbeques for 10 years after he's gone.
Keith also sponsors Kindle Pursuit, a new fundraising event for Kids Cancer Care. Deeply invested in Kids Cancer Care's mission and success, he upped the ante for the post-event barbeque of Kindle Pursuit. "I told them, 'If I'm going to be doing it, I'm going to come up with my own menu.'"
And he did. Keith satisfied event participants and sponsors alike with a gourmet meal of delicious beef burgers or grilled chicken with all the fixings.
"I had the Canadian maple burger with bacon," says Nikki Lamarche, a Kids Cancer Care employee who participated in Kindle Pursuit 2019. "It was delicious! I also got to have a beer with Keith in the beer garden. It was so great seeing Keith in his element."
This past year, Keith also began sponsoring our parents' and children's cooking classes.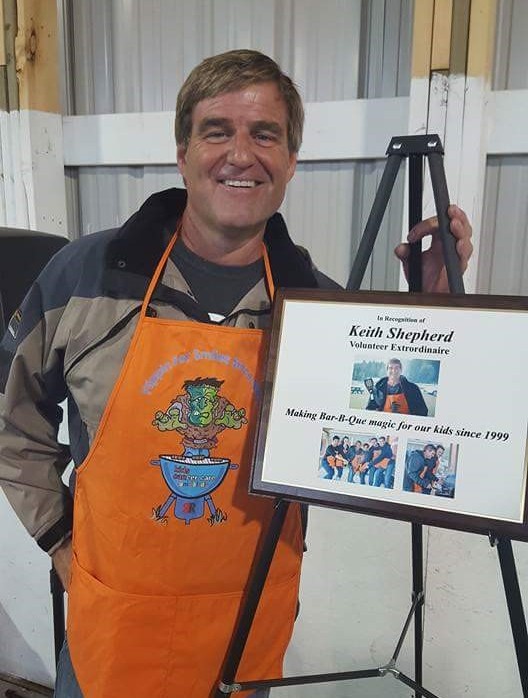 "When I saw the photos of the kids cooking, I started to cry," he says. "I said, 'Sign me up. I'm in.' You've just created two things that are beautiful with these cooking programs. You've created a beautiful meal together and you've brought people together to heal through food. Cooking warms your soul. And these kids need this."
In addition to the foods and friendships they enjoy at our cooking classes, each child and parent receives a souvenir apron, courtesy of ReDo It Renovations, Keith's company.
Keith gives back for many reasons, but top among them are his gratitude for having two healthy children and for seeing the smiles of the kids at camp. His parents were both big volunteers, so giving back to the community is a way of life for Keith. It is something he will always do.
"At the end of the day, there are only a few things I need — food for my dogs, money to pay the bills and support for my charities," he says. "My kids are always number one, but they've already been looked after. I would rather see myself and my money make a difference while I'm alive."
---
Thank you Keith and the hundreds of volunteers who help us maximize our resources to make our free programming possible for families facing childhood cancer.