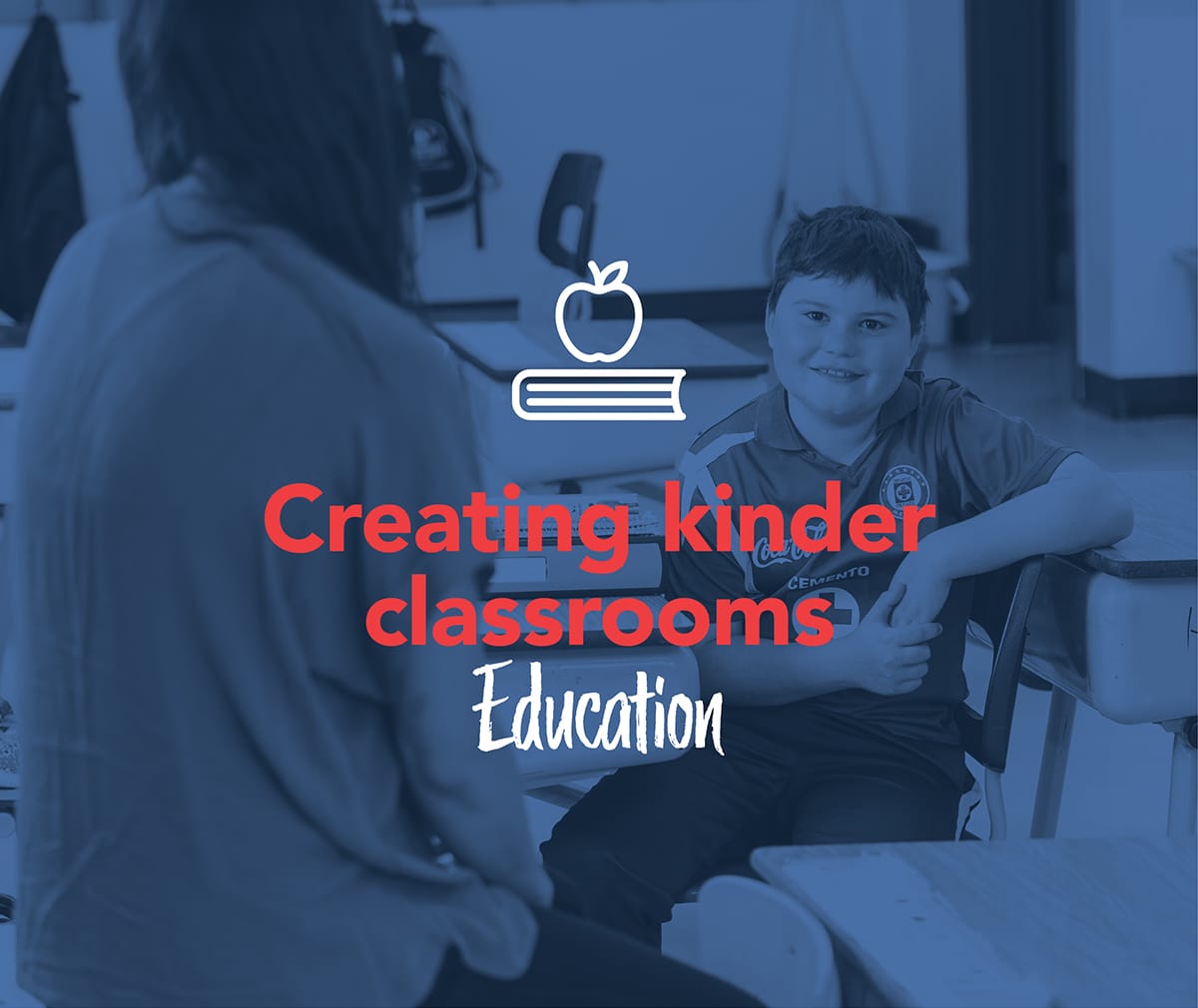 "When you have a room full of kids who have no idea about cancer, this is invaluable. It gives the students an idea of where Evan's been. What he's been up to and why there's an empty desk in class." — Evan's dad Tom
When Evan was 10 years old, his whole world changed. Like any little boy, he enjoyed being active and having fun with his friends. Evan loved mountain biking, swimming, kayaking, travelling and going to hockey games. At school, he liked math and gym class and, in his spare time, he enjoyed playing soccer and hockey.
Little did he know that all of this was about to change. Thanks to you, we were able to be there for Evan through a range of programs, including our new Cancer in the Classroom program. 
"We went for a skate at the Oval and Evan stopped skating to take a break," says Evan's father Tom Preusser. "This was the first hint that something was wrong. I had never seen Evan stop to take a break like that. We knew something was up."
On December 27, 2017, Evan's leg was bothering him. "By the morning of the 29, he couldn't sit or stand or do anything," recalls Tom. "We thought he might have hurt himself playing hockey or soccer. Somebody must've kicked him or something."
After arriving at the hospital, Evan underwent an X-ray and an ultrasound. The doctors couldn't find anything, so they did a blood test. On January 2, 2018, Evan was diagnosed with leukemia.
Evan had no choice but to miss school and start treatment immediately.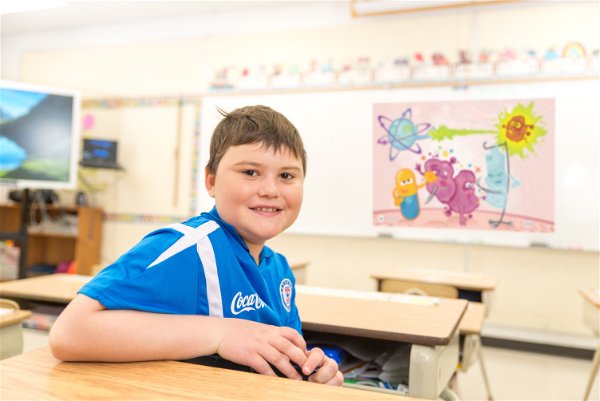 After his diagnosis, Evan and his family remained at the hospital. "We didn't leave," says Tom. "We started treatment right away and there was surgery to put a PICC line in his arm." A PICC line is a hollow tube used to administer chemotherapy.
Evan started his first month of induction chemo. "He was really sick at that time and going into surgery was very intense for all of us," says Tom.
A second blood test revealed that Evan had Philadelphia chromosome (Ph)-like acute lymphoblastic leukemia (Ph-like ALL).
Evan is now 11 years old and currently in remission from his second chemo treatment. The treatment, which was supposed to last six to eight months, lasted a year and Evan is still on treatment.
Evan ended up with bone necrosis in his legs, a complication from his chemo treatments. Necrosis is a condition where there is a lack of blood supply to the bones. This can lead to the bone breaking down, which can eventually cause the bone to collapse. Evan is currently working with a bone specialist to keep the effects under control.
With your support, Evan is also rebuilding his bone mass and muscle strength at our PEER exercise program. "It's actually really fun and the people understand when I get tired," says Evan. 
Evans father couldn't agree more. "It certainly helps when you get into a program where they get what you can and can't do," says Tom. "Things can change so quickly and you can call an hour before and say this isn't going to work, which is okay at PEER. There's an understanding of how quickly things can change, which is huge."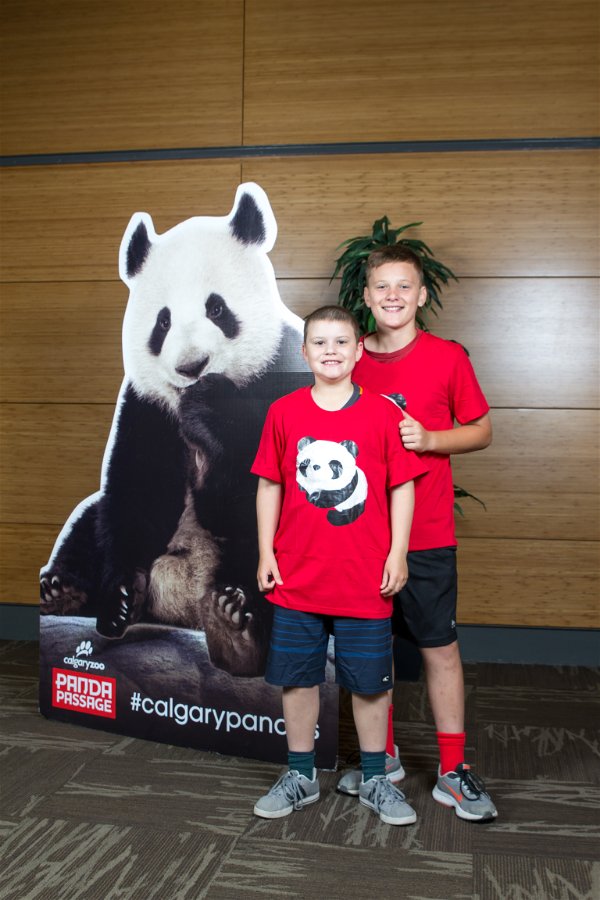 In March, Evan's parents Alana and Tom attended Parents' Quest for the Cure, a Kids Cancer Care fundraising event that raises funds for research. This was the first time they had been out together since Evan's diagnosis in 2017.
Evan's family has also participated in our Family Ski Day in February and have taken in some Flames games. Last summer, they enjoyed the Panda Breakfast with Kids Cancer Care at the Calgary Zoo. Evan also attended Camp Kindle for a few days, but had to go home early to receive treatment at the hospital. Evan is registered for camp this summer and counting down the days.
After months of cancer treatments, Evan was excited to finally return to school, if only for half days. Thanks to you, the Cancer in the Classroom program was making its debut at Evan's school just in time for his return.
His family was thrilled to learn about the new program. Because Evan's white blood counts were dangerously low throughout treatment, he was at high risk for infection and unable to go to school. He missed a total of 15 months of school, which caused him no end of stress. Now he was returning as a sixth grader and he was nervous. Having Cancer in the Classroom come to his school made returning a lot easier for Evan.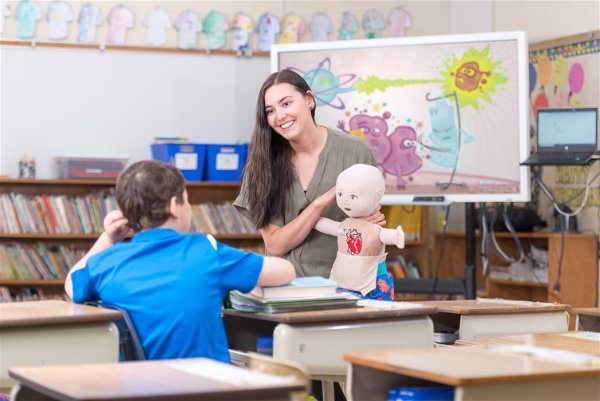 Cancer in the Classroom is an interactive presentation designed by Kids Cancer Care's child life specialist and oncology nurse. Created for kids like Evan, who are returning to school after an extended leave due to cancer, the program aims to create a more compassionate classroom for the child battling cancer. The presentation is customized for different grade levels and explains childhood cancer in simple terms.
"Evan was nervous about going back to school," says Tom. "We asked about that program. When you have a room full of kids who have no idea about cancer, this is invaluable. It gives the students an idea of where Evan's been, what he's been up to and why there's an empty desk in his class."
Feeling different is a scary thing for any child and having cancer often leaves a child feeling alienated from peers. Cancer in the Classroom gives the child's peers the opportunity to ask questions about childhood cancer. Exploring the myths, fears and side-effects of cancer, the program helps students to understand and empathize with the child battling the disease.
"It's nice to have somebody speak for him and it gives people the chance to understand what's going on," says Tom.
By supporting education programs such as Cancer in the Classroom, you are helping kids like Evan return to school with the support they need.
---
Thank you, Canada Post Community Foundation, for supporting the launch of Cancer in the Classroom. You're helping kids like Evan get the support they need as they return to school.