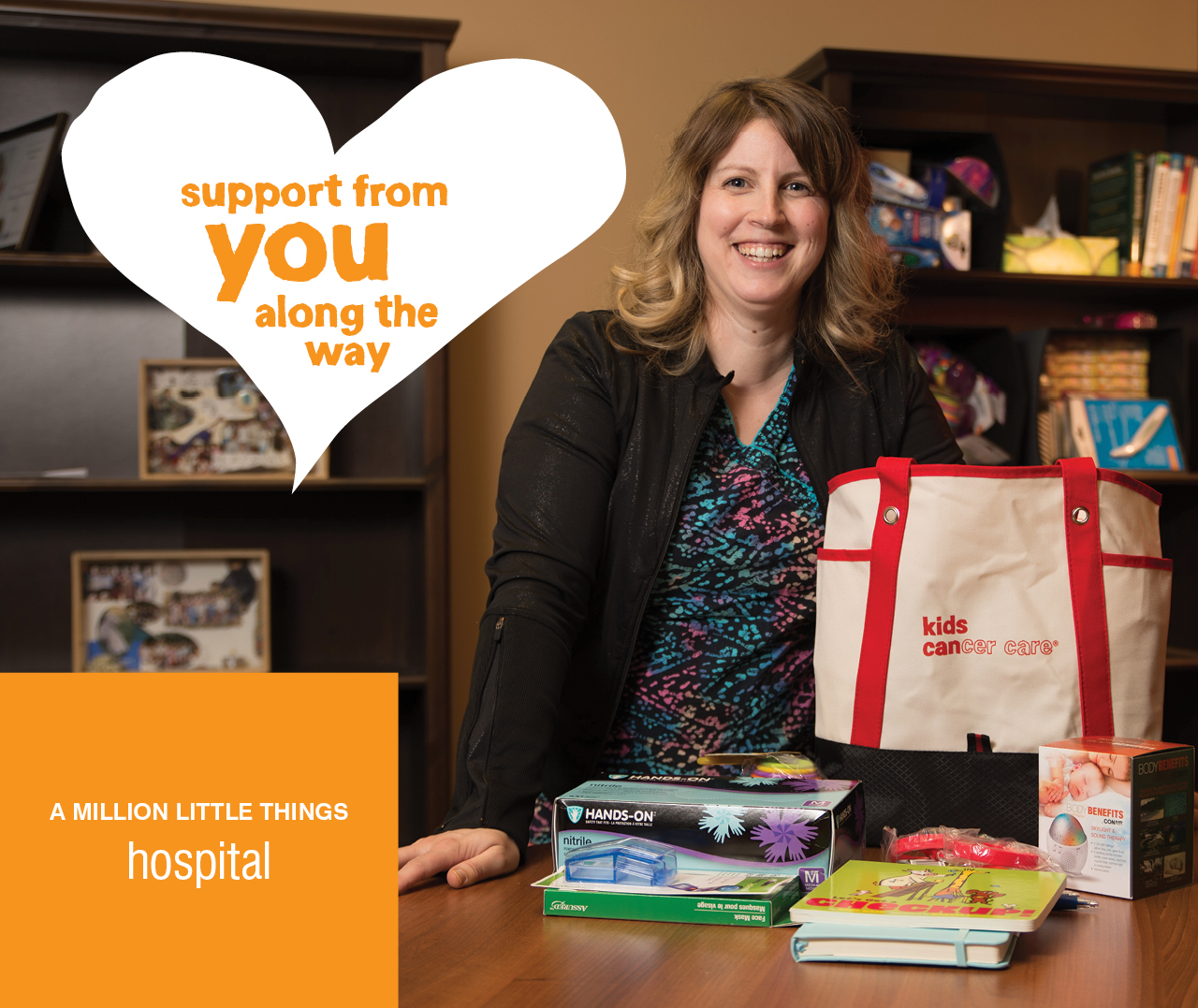 A bed rest pillow, sound machine and magic bag. Some items provide comfort. A storybook, colouring book and mini-medical kit. Some promise fun and play. Pill splitter, thermometer and nitrile gloves. These are vital for care. A million little things a family may not even know they need when their child is first diagnosed with cancer. Simple things that will make all the difference in the world. All items they will find in their Kids Cancer Care Wellness Bag to help them on their cancer journey.
While childhood cancer is not a journey a family would ever choose, when forced to embark on the journey, it is comforting to know you are not alone. Sometimes, it helps to know that others understand because they've been there too. And, more often than not, it is the simplest gesture and the humblest act of kindness that speak the loudest. In these moments, words just can't compete.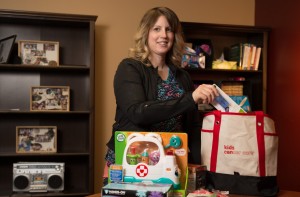 Every year, Kids Cancer Care delivers Wellness Bags to newly diagnosed families in Southern Alberta. These bags are often the first communication a family has with Kids Cancer Care. Filled to the brim with medical supplies, toiletries, books and toys, these Wellness Bags are meant to say: "We're here for you and we care."
Our nursing coordinator Janessa DeCoste and family liaison Mary Philippo deliver the Wellness Bags to families in the comfort of the families' homes. They often come with a special delivery of home-cooked meals, lovingly prepared by volunteers in our Cooking and Caring program.
Just as each meal is especially prepared for each family and their dietary needs, so too are the Wellness Bags carefully packed with each family in mind.
"Every family completes an in-take form, indicating the age and gender of their child with cancer, so the items are age-appropriate," says Janessa, who oversees the Wellness Bags program. "A two-year-old boy might receive a bag with a teddy bear, a jumbo Lego kit and a DVD of his favorite cartoons, while a 12-year-old girl might receive a journal, the latest tween novel and a jewellery-making kit in her bag."
On the in-take form, parents are also asked to indicate which medical supplies, they need to help care for their child. They may need a pill splitter, a thermometer or a box of nitrile gloves.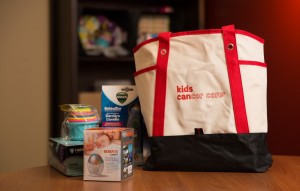 Once Janessa knows more about each family and their needs, she fills the bag with items, serving a range of purposes. Items like magic bags or sound machines offer comfort and rest, whereas colouring books and storybooks offer a welcome distraction and a bit of entertainment for a long stay at the hospital.
Each bag and every item it contains is made possible by you, which the families accept with open arms and grateful hearts.
Ten months ago, little Gracie was diagnosed with acute lymphoblastic leukemia. Her family is still enjoying the contents of their Wellness Bag.
"I just wanted to express how thankful we are for getting the wellness bag," writes Gracie's father Franklin Crothers in an email to Mary. "The bag came with many thing we still are using, including the bag itself. Gracie enjoyed her colouring books and uses her mood lighting lamp on a regular basis. She enjoys looking at the stars."
Thank you for helping our families to feel welcome and supported as they embark on the toughest journey of their lives.
Support from YOU along the way.